Image © Kassandra Brown
When parents call me for parent coaching services because the are having trouble with disrespect, inattention, poor behavior, poor follow-through, and poor listening, one of the most common questions I ask is "What's your relationship to play outdoors?"
The Importance of Movement
Getting outside and playing builds balance, coordination, speed, reflexes, and hand-eye coordination. When we don't practice, we lose these skills. (This is true for adults as well as kids.) I'm amazed at how after a day on the computer, I'm not really in my body. I'm more likely to bump into walls, trip over my feet, and make poor word choices.
I'm not used to interacting with human beings if I've been typing all day. It takes effort and concentration for me to shift back into my body. When I get outside and toss a ball with my girls, I have to exert effort to track it. And I'm an adult with my brain wiring largely in place.
For kids big muscle and outdoor play may be even more important since their brains are still forming neural connections so rapidly. If they don't practice moving their bodies and connecting with the earth while they are young, it will likely be harder for them to develop coordination later.
Movement makes people happier and healthier in more ways than just cardiovascular fitness:
When we move we breathe more deeply, bringing in more oxygen and cleansing our bodies more fully of carbon dioxide.
Our joints get lubricated through movement, our muscles get stronger, and our proprioception (felt sense of where we are in space) gets better.
The horizon is farther away and our eyes get to focus up close and far away, making the eyes stronger and less likely to need glasses.
Running, jumping, walking and playing take the focus off of small muscle tasks like writing, art, computer work, computer games, and crafts, letting those fine motor skills muscles relax and recover while giving the bigger muscles a chance to get stronger and engages different parts of the brain.
Sounds great, right? Moving around outside generally makes people happier, less frustrated, and healthier. Here are some simple ways to practice right now. No toys or accessories needed.
5 Easy Ways to Play Outdoors

Image © Kassandra Brown
1. Visit Local Water
We have a pond we like to go to for swimming, playing in the mud, hanging out with friends, and challenging our 'ick' factor. Catching frogs and crawdads gets us closer to nature. Watching the snapping turtle and water snake give us a better respect for the non-malevolence of nature and how to co-exist with it.
2. Engage in Winter Fun
Making snow angels, cracking ice at the pond, and sledding are good winter activities. Broom ball, hockey and ice skating are good for slightly older kids. It's so vital to get outside, get some sun and fresh air and feel free of the confines of indoors in the winter.
3. Volunteer at a Local Farm
We like to visit our friend's farm. They have three daughters close in age to my own girls. These three girls are responsible and helpful on their farm. They do not just play with the animals. Children also need to learn responsibility, and taking care of animals or plants outdoors is a good way for them to learn to care for another living creature. The best way to teach them this? Have them see other people their age being responsible as well as seeing you volunteer, help out, and learn even if you're not good at it yet.
4. Take Quiet Time Together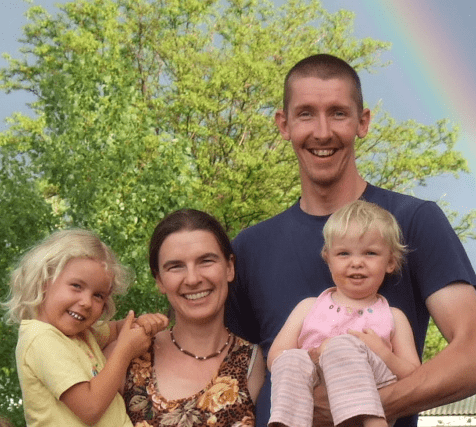 Image © Kassandra Brown
Try going for a walk together at sunset. This is good for babies in arms (wear them) and older children. As a quiet bonding activity that the whole family can take at their own pace, evening walks can help with the transition from daytime frenzy to nighttime quiet. Bikes or scooters allow bigger kids to go a head at their own pace. To make it more special, you can have a shared destination or even a dinner picnic at the end of the walk.
5. Relish Spontaneous Moments
My daughter and I chased the trash truck for a half hour around our neighborhood. We were both barefoot because I thought we were just going out onto the porch for a moment to watch the truck at our house. Instead we enjoyed lots of laughing and fun watching the arm come out of the truck over and over again and pick up the trash cans. We made the driver's day too.
What do you like to do outside? What activities bring you together with your kids? Let us know in the comments.
Kassandra Brown is a parent coach and yoga teacher living at Dancing Rabbit Ecovillage in rural Missouri. She coaches through Skype and phone and commutes with her two feet while walking outside.