Over spring break last year I took my nine-year-old daughter, along with my friend and her daughter, to Japan. This wasn't the easiest decision; it's a fourteen hour flight and a lot of moving around the country! My friend had lived in Japan before and knew some great spots, but I was constantly learning how to make the experience great for us and the kids, and it turned to be a trip that my daughter and I will never forget.
Trains: When you have kids with you, trains are your friend. We took them everywhere. They're in almost every town across the country, and if you can't find one, a tram or boat will be in its place. A ride costs a reasonable $5-$10. In one town we took a train to a vertical tram (see picture), and at the top a bus was waiting to take us into the town of Koyasan. The kids loved this unique leg of our trip.
English: Basic English is widely spoken in Japan, so you don't need to know any Japanese to get around. We found people to be extremely friendly; almost everyone I spoke with knew some English and went out of their way to be helpful when we were looking for good food or a restroom. A lot of signs were in English and Japanese as well.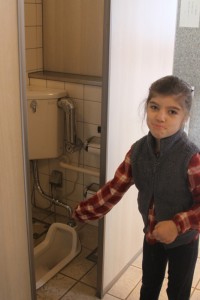 Squatting Toilets: My daughter absolutely refused to use these. Luckily, the hotels had western style toilets, as did many department stores and some public facilities. This was occasionally a challenge to solve, but not an impossible one.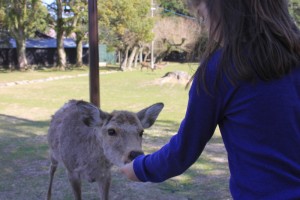 Wildlife: In the town of Nara, Japanese Buddhists have spent hundreds of years taming the local deer, so that today you can walk up and scratch them like a dog. They'll even follow you around if they think you have food. You'll see local children everywhere feeding them biscuits.
Food: If your child doesn't like sushi, don't panic; they'll probably be okay with ramen. You can get this delicious broth-and-noodle dish pretty much everywhere; it typically costs around $8.
Geisha: At the very end of our visit to Japan we found a shop that specialized in dressing up kids and adults as authentic Geishas. This process took four hours for my daughter and her friend, but they absolutely loved every second and the results were magical.