Before you pick up the coach's whistle, you might want to consider these issues that parent-coaches and their children might face throughout the season.
By ActivityHero Staff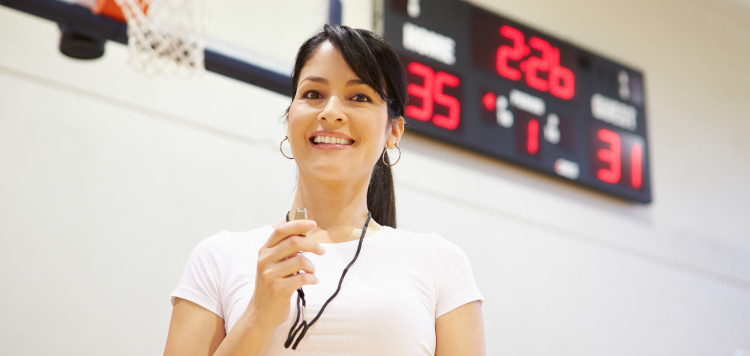 Parents love to be involved in their kids' lives and coach their kids' sports. It's rewarding to watch your son or daughter become a "pro" thanks to your excellent know-how of their favorite game. It's also great to have shared experiences and interests with your kids, which can spur dinnertime conversations and strengthen your family bonds.
Are you considering taking on the role of parent-coach? We talked to some parents who have coached their kids to find out what they suggest you consider before signing up. Here, the top questions they recommend you answer.
1. Does Your Child Want You to Coach?
Before you decide whether coaching the annual Y-Ball team fits your schedule, see if it fits theirs. Sit down with your son or daughter and ask them if they feel comfortable with you playing the role of coach. Some will be happy with the idea, but others may be worried about being judged by other players or not living up to your expectations. Before the season begins, sit down and make a list of pros and cons so you can see what your child is truly worried (or pleased) about. Also, it may be worthwhile to evaluate your intentions. Will you be more focused on winning or creating learning opportunities? Will a coach role help or hurt the current relationship with your child? These answers are not to be overlooked.
2. How Will You Handle Other Parents' Critiques?
There is nothing worse than watching your son's or daughter's basketball game only to see them in for a total of 5 minutes. This is why parent-coaches always try and distribute playing time equally. The most obvious line of favoritism is having your child in the game for most of the game. It will be up to you to judge, based on their skills and the age level of play, whether or not the most skilled players should receive the most playing time. Always keep in mind the parents came to see their kid in the game.
However, another risk of parent-coaching is underplaying your child. Doug Skinner, a parent from Los Altos, Calif., coached his two boys in soccer, baseball, and basketball until they reached high school. When asked why he decided to coach he replied, "I did not want an overbearing, hot-headed dad yelling at his kids like I had seen in the years before." We then asked him what he thought of the experience and if there is anything he might have changed. He replied, "I wish I would have played my kids more. I was always worried about parents getting mad at me for over playing my sons. My kids always tended to slip to the back of my mind because I was worried other parents were not happy with the amount of playing time their child received."
If you do decide to coach, be sure to create a system that allows you to be fair to your kids as well as the others on the team.
3. Can You Leave Practice on the Field (or Court)?
If your child couldn't make a shot at practice, you might be tempted to go into "after hours" with them to work on some technique. This is not a bad thing, but chances are if they had a bad day at practice, they are already discouraged. If you weren't front-and-center for their slip-up, you would probably let them go about their evening unimpeded.
Bottom line: Make sure you can turn off the "coach" role as soon as you get home so you can provide an environment where your kids can tell you how they are feeling and you can be there for them. If you do want to work in some extra skill-building, don't push extending practice in the driveway before you even head in the house. Instead, have a little discussion and see if you can't get them to ask for some pointers, or to play a friendly game of horse.
4. Will Your Child Still Get Your Attention?
Parent-coaches tend to get very excited when they see the other members of the team improving throughout the season. All too often they forget to monitor their own child's progress. Make sure you track every player's improvements and give EVERY PLAYER praise for working hard to learn the game. Not only does on-court praise increase the trust and bond between you and that child, it is also when the true joy of coaching becomes a healthy addiction. So be sure to share some positive words with your kids in front of the team, as well as at home.