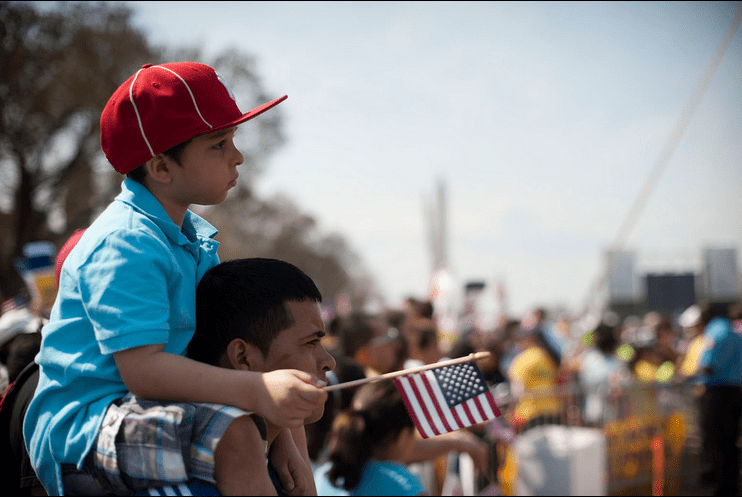 Memorial Day weekend is often regarded as being the unofficial beginning of summer—the local pool and beaches are open, the ice cream truck pays a visit, and kids get an extra day off of school.
It often slips our minds to remember what Memorial Day is really about; it is a day to remember the fallen heroes of war. As grim as it may sound for a young child, they must learn and appreciate the risk that our servicemen take to protect their freedom.
Here are a few things to do on Memorial Day to get kids involved in the holiday.
1. Make a Care Package for "Adopt a Platoon"
Founded in 1998, the Adopt a Platoon program strives to improve the quality of life for deployed service members by ensuring they are not forgotten by their country.
Kids can express their gratitude for our servicemen away from home by putting together a care package or sending cards and letters. Some of the most highly anticipated treats are hard candy that can withstand extreme heat, powdered drink mixes, air fresheners, small pillows with pillow cases, playing cards, small hand-held fans and disposable cameras. Your child can put together a thoughtful package and include a personal drawing or letter thanking the platoon for their dedicated service.
Check out adopt a platoon for more details & guidelines on how to get involved.
2. Make a Patriotic Wreath of 5-pointed Stars
According to USHistory.org, George Washington's original sketch for the American flag contained 6-pointed stars for each of the 13 colonies. However, Betsy Ross, who stitched the first American flag in 1776, suggested that each star have five points after demonstrating that it could easily be made in one snip by folding the fabric just right.
Grab about a dozen sheets of red, white and blue construction paper and follow the instructions to snip your own stars at USHistory.org. Visit your local craft store to purchase a Styrofoam wreath ring and cocktail toothpicks with red, white and blue tips. Use the toothpicks to stick the stars into the wreath and hang it proudly upon your door.
3. Pay Homage to Your local Veteran's Hospital or Retired Veteran's Home
No matter what age, a veteran always appreciates a word of thanks for their service.
Some wounded soldiers may not have the opportunity to interact with the public often because of injuries or disabilities. Take your child to a veteran's home or hospital and encourage them to shake hands and thank the residents. If they feel comfortable enough, they can even ask questions and learn a thing or two about the retired servicemen and their duties.
If you are unsure of the nearest veteran's hospital or looking for another way to get involved, contact AMVETS to see what sort of assistance you can provide to help veterans in your area.
4. Volunteer with Your Local USO Center
The USO provides veterans and their families with great programs such as "United Through Reading" which allows deployed parents to record a bedtime story onto a DVD for their children.
The USO is always accepting donations of your time or monetary value. Services and opportunities vary by center and some USO centers have a minimum age requirement of 18 years of age to volunteer so be sure to contact your local center beforehand.
If you are unable to make it to a center, kids can also volunteer virtually by sending a personal instant message to the family of a veteran at JoiningForces.uso.org.
5. Suggest Your School Participates in the "Take a Veteran to School Day"
Developed by the History Channel, "Take a Veteran to School Day" encourages kids to learn more about the different branches of the military and what service members do when they are deployed. Veterans are asked to visit the school and given an assembly where they are asked questions about their service and often given a token of thanks such as a flower or thank you note from each student.
To learn more and see step-by-step instructions of how to get involved in this program, visit history.com.
6.  Visit Your Local American Legion or VFW Post
A regular hangout for many veterans, the VFW and American Legion posts are open to the public. Many local posts have special events for Memorial Day such as picnics or pancake breakfasts.
Contact your local VFW or American Legion to see what sorts of events they have planned for the holiday weekend and encourage your kids to interact with veterans in their area.
7.  Get Involved with Your Community's Memorial Day Parade
Most communities have parades for Memorial Day that include participants from local schools, retired veterans, and village board members.
Visit your village hall to inquire about any help needed to participate in the parade. Your child will feel honored to march alongside his community. If the parade is not in need of volunteers, be sure to attend the event with your child. Ask your child which of the uniformed  service members he recognizes and which are new to him.
8.  Learn to Distinguish the Different Military Uniforms with Coloring Pages
Can your child spot the differences between deep blue Marine Corps dress blues and the green camouflage battle uniform of the Armed Forces?
Visit PatriotColoringPages.com for fun coloring pages all about Memorial Day and Military service uniforms. Visit Military.com's Guide to Uniforms to find correct coloring and facts about the different uniforms of the military.
9.  Bake and Decorate American Flag Cookies
Although it would take a pretty big cookie to make an accurate representation of the American flag of today, that's not to say that baking cookies can't be educational.
Follow the Taste of Home's recipe for flag sugar cookies.  Assign your child small baking tasks such as measuring the dry ingredients and rolling out the cookie dough. While the dough is chilling in the fridge, educate your child on the history of the American flag. Show your child the evolution of the flag and what each aspect of the flag means.
For a complete timeline of the flag, visit USHistory.org. When the cookies are finished baking, encourage your child to be creative and attempt to replicate some of the flags from the timeline.
10.  Decorate the Memorial of a Fallen Service Member with Flowers or Cards
Most states have established cemeteries reserved for veterans. Many are regularly open to the public for visitation. Have your child pick some flowers and decorate a thank you card for a veteran.
Explain to your child the importance of sacrifice and courage that military members exhibit on a daily basis. Visit cem.va.gov for a complete listing of veteran's cemeteries and contact information.
Written by Sarah Antrim