Discover summer camp options (and alternatives) that are perfect for teenagers. From sports camps to robot camps, volunteering to leadership training, there's lots to consider! Here, tips to make an amazing summer for your teen.
By Sarah Antrim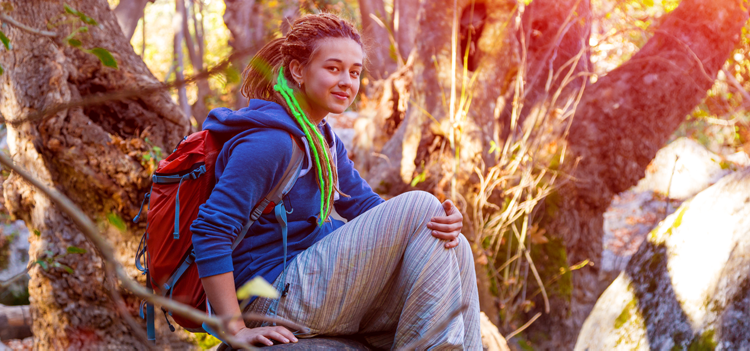 The transition from childhood into the teenage years presents a lot of changes–changing bodies, attitudes, and of course, changing interests.
Things that your kids might have found interesting before are no longer "cool" to teenagers which may leave parents at a loss as to how to fill up their teens' free time, especially during the summer.
So how do you find productive activities for teens during the summer?
1. Explore Summer Day Camps for Teens
Many camps have been designed specifically with teens in mind. Below are just a few selections which have multiple locations across the U.S.
If you want to find options near you please search ActivityHero for teen day camps.
Challenger Soccer Camps
Prices start at $75/session
STEAM Science & Robotics Camps
Prices start at $300/session
Gamebreaker Lacrosse Camps
Prices start at $475/session

AYSO Soccer Camps Prices start at $90/session
Active Learning Chess & Computer Camps Prices start at $300/session
Adidas Tennis Camps Prices start at $495/session
Revolution Field Hockey Camps Prices start at $425/session
2. Consider Overnight Camps for Teens
As teens develop more independence, they may be ready to travel to an overnight camp. Be sure to check out our blog post for tips to help you find the right overnight camp.
3. Look for Volunteering Programs
Summer is a great time for kids to learn about community service. Not sure where to get started? Check out our blog post with 6 tips to help you find volunteering opportunities for tweens & teens.

4. Consider Counselor/Leader Training Programs
One of the most popular option for summer camps for teens is a counselor-in-training (CIT) or leader-in-training (LIT) program. Many camps offer these training programs to teens as an unpaid position or at a low fee to parents, sort of like an apprenticeship or internship on the road to becoming a camp counselor. Best of all, once they finish the required training, your teenager will have a job opportunity lined up for them!
So how can you set your teen up for success this summer in a CIT or LIT program? Here's a few tips to get teens into a CIT/LIT program:
What do CIT/LIT programs look for in program candidates?
Many CIT/LIT summer camps for teens are looking for candidates that are 13 & older and have experience working with kids, such as coaching, tutoring, or babysitting kids in sports, academics, or arts. They are looking to recruit candidates with lots of energy who show enjoyment in working with kids and a desire to receive additional training and get outside.
What can I do to make sure my kids are prepared?
First of all, make sure your teen will be able to meet the availability requirements that the program demands. If you have any big trips planned, this summer might not be the right time to sign up for a training program.
Help them put together a resume and list of contacts — babysitting references, teachers, and anyone that will give your child a good reference.
You may also want to request some letters of recommendation and possibly school transcripts.
What can parents expect from a CIT/LIT program?
Some summer camps offer the CIT/LIT program as an unpaid position while others will require a fee to register. Some CIT programs also offer retreats and trips which may come at an additional cost.
If the program is offered at an overnight or sleepaway camp, teens may be required to spend the entire duration of the camp in the program, although some programs do allow them to go home on the weekends.
What personality traits are best suited for a future camp counselor?
A camp counselor is someone that is responsible, reliable, creative, has the ability to give discipline, and knows how to have fun!
What experience is needed to become a paid camp counselor?
Most camps require the completion of a CIT/LIT program and will hire counselors that are 18 and older. Some camps may also look for extracurricular activities such as sports, scouts, or clubs.