With the temperatures still dropping and the snowstorms only just beginning, you and the kids are probably going to be spending some more quality bonding time inside. Instead of panicking when you see the school closures banner at the bottom of your TV, celebrate the idea of a snow day. You know the kids will wish all winter long for a day off, so you might as well be armed with some fun activities to pass the time when it actually happens. Where is a better place to be when it is cold out than in the kitchen cooking up something sweet? I certainly can't think of anything better, unless maybe there was a fireplace in the kitchen. Then I would actually never leave. Anyway, for your next snow-in, give this little kid-friendly recipe a try.
Rice Krispies are a classic and the perfect ingredient to play around with in the kitchen. From breakfast to dinner to desserts, you can create so many fun things with this amazing cereal. So while the snow is falling or it is just too cold to go outside on your next snow day, why not build some snowmen inside? It will be great practice for everyone when it comes time to build the real thing. With just a few ingredients you and the kids will be off and building in no time.
What You Need
·   Box of Rice Krispies (6 cups per recipe)
·   Bag of Mini Marshmallows (4 cups per recipe)
·   Butter (3 Tablespoons per recipe)
·   M&Ms
·   Sour Strips
·   Pretzels
You will start just like you are making normal Rice Krispie treats, adding 3 tablespoons of butter to a medium-sized saucepan and heating it on low. Then add those yummy mini marshmallows and stir until everything is fully melted. Once that is ready, add the cereal to your mixture and stir together until everything is fully coated. Now this is where these directions are going to change a bit. In order to form the balls for your snowmen's bodies, you will want to work with the mixture while it is still warm. It is time to enlist the little ones' help! Using a buttered spatula, remove the mixture and scoop it onto wax paper, and then have the kids start grabbing pieces and rolling them into 3 sized balls: large, medium, and small. From there, start having them build those snowmen! Once the shapes are formed, it is time to really start playing and decorating. I always loved using M&Ms for the buttons, sour strips for the scarves, and pretzels for the arms, but if you don't like your kids eating any of these things, just improvise! You can also make popcorn snowmen if you aren't a fan of Rice Krispies! The directions are incredibly similar.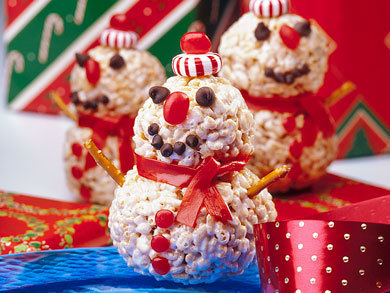 While you are making these delicious and adorable snacks, put on some fun tunes and have a dance party in the kitchen. Since you are building snowmen, possibly a little Frozen is appropriate? Unless of course you can't stand to listen to that album one more time (you aren't alone); in that case, just find something fun to sing along to. This will also make the cleanup process fun for everyone! Memories like these will last a lifetime. I still remember making snowmen with my mom and sister when I was a little kid. If you really want to make it something special, have it become a snow day tradition so you never have to dread another snowstorm. If you all are really ambitious and are stuck inside the entire day, you can make these tasty treats for your kid's class, if that is allowed. If you're unsure if the class allows outside food, just ask the teacher. Makes going back to school a little sweeter for everyone. Before you know it, you will be the one going to bed with your PJs inside out, wishing for some snow. So it's time to build a snowman. Go on, go and play!