A chef — and a former picky eater — shares surprising ways that cooking classes help kids with finicky taste buds branch out.
By Haley Burress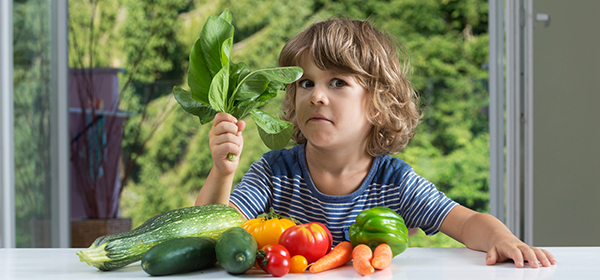 Dinner time should be an opportunity for your family to gather around the table and catch up on the events of the day. But if you're busy being a short-order cook and catering to (or arguing with) a fussy eater, you're not likely to have that Norman Rockwell moment.
We are willing to bet that you have tried almost everything to inspire your picky eater to try "just one bite," but according to The Culinary Dude's Scott Davis, you might just need to bring another person to the table — specifically, a professional chef. No, we don't mean as your private cook, but as your child's instructor. Enrolling your child in a hands-on cooking class can expose him to new ways of preparing food, inspire him to try new fare, and provide him with a valuable life skill that will serve him well after he leaves home. It might even lead to a lifelong passion: Some chefs, including The Culinary Dude himself and Michael Voltaggio of Top Chef fame, started out as unsure and picky eaters.
Here, Davis explains how a chef-led cooking class can help all kids (including the picky ones) venture into more creative culinary territory.
A New (and Neutral) Face
When it comes to picky eating, "parenting tactics can only take you and your child so far," says Davis. "Having an experienced third party involved who can offer new experiences and advice can take the situation from bad to great."
You are likely no stranger to the neutral-party teaching strategy: You may have passed off your kindergartner to a swimming instructor and watched her paddle across the pool in no time, though she would never go underwater when it's just you and her. And you are fascinated when you hear your child's teacher sing the praises of his good behavior, though there are times you can't get him to sit still for four minutes. These teachers and instructors are key members of your child's village and experience. Why not get a chef involved to work similar magic in the realm of food education?
A Low-Pressure Environment
"I never force a kid to eat something that he doesn't want to," says Davis. "That low-pressure atmosphere is established first thing in my classes." At home, picky eaters are often forced to eat certain foods, which can cause kids to dig in their heels even more. In contrast, a cooking class is often low pressure. Kids don't have to try new things in the class, but chances are they will. After all, the rest of the class is sampling what they made, and they all worked hard on the dish together. Nine times out of ten, says Davis, kids will try the dish — even if they thought they wouldn't at the beginning of the class, based solely on the ingredients list. Watching a child try a food that was once on his forbidden list is a step in the right direction!
A Role in the Food-Prep Process
Children are not always free to help with meal preparations at home. Older kiddos are often doing homework at the kitchen table instead of chopping veggies, while preschoolers may be coloring instead of mixing ingredients. However, group cooking classes often succeed with picky eaters in part because of the role that kids take in preparing various dishes.
"Kids in cooking classes should be empowered and involved with every step of the dish," says Davis. "At the end of the hour, they are able to look at the finished product and know that they had a major part in making it." Davis says that picky eaters may have an aversion to an ingredient on the prep table at the beginning of the class, but that doesn't mean that they can't still help with the dish. "You may not like tomatoes, but that doesn't mean you can't chop a tomato," affirms Davis.
At the end of the chopping and dicing, stirring and mixing, kids become chefs — and experts at the dish they have created from scratch. Even if the kids try the completed dish and don't like it, they often will take it home to share with parents or siblings because they know how hard they worked on it, says Davis. Kids who prepare meals are proud of their work, and they can then lead a "family cooking night" in their home kitchen, using the recipes that they bring home after each class.
A New Preparation
Kids are sometimes picky because they have been exposed to only one particular way of making a food. Davis focuses on preparing the same ingredient in a variety of ways so that kids can see that roasted cauliflower florets, for instance, are not the same as mashed cauliflower … or that basil isn't the same as Thai basil. Cooking classes encourage kids to get a little curious and experimental in the kitchen, which can lead to some new ways of trying foods. Broccoli brownies, anyone?
A Focus on the Positive
Your picky eater isn't going to change overnight, but the more you can support the skills and lessons he learns in cooking classes, the quicker he will develop a more well-rounded palate. After class, ask your child about the recipe he worked on, or see if he would like to help you prepare ingredients (dicing, chopping, etc.) the next time you are cooking.
Also, try to refrain from saying "but you never liked…." when you hear that your child tried a food in class. Instead, focus on the positive, saying, "I'm so happy you liked this salad — that is great!" Then, breathe a tiny sigh of relief because perhaps your child will, in fact, grow up to eat things that are green.
Get Your Kids Their Own Chef!
Ready to ignite your child's passion for new foods? Get him or her started in a group cooking class with a chef instructor! Check out our list of classes near you at ActivityHero. After plenty of time to experiment and prepare, and to taste and taste again, your child will be on the road to a more varied diet.