Sometimes you CAN have it all – as proven by the multitude of athletes that are not only Olympians but parents as well. Balancing motherhood and elite sports is no easy feat – but these women have made it look easy.
Kerri Walsh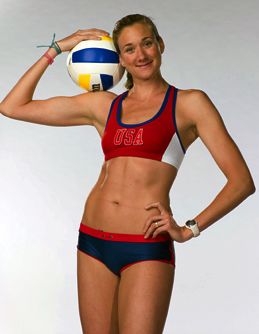 Gold medalist Walsh is well known for her awesome beach volleyball victories, but at home she is simply known as mom. She takes a lot of pride in this job – so much so that she hopes to have a gold medal for each of her children – winning a third at the London games will provide an extra for the third child she hopes to conceive after the competition. She has been quoted as saying that being a mom has given her a new perspective on the world and makes her courageous enough to follow all of her dreams. Her son Joseph was born in May 2009, and Sundance followed a year later.
Kristen Armstrong
Armstrong, who recently won gold for cycling in London, originally retired from the sport after first winning in Beijing. But after her son Lucas was born in 2010, she discovered she still had that passion for competition on the open road. Now almost two years later, she has found a reasonable balance between her own interests and those of her son's.
Kara Goucher
Another example of a mom who finds the energy to do it all is Kara Goucher, who participated in the Beijing Olympics as a long distance runner and is now back at it in London. Her 2-year-old son Colton is what she credits for her ability to stay fit post-birth. Instead of enjoying much downtime, this toddler keeps her on her feet almost as much as her sport.
Christie Rampone
While 6-year-old Ryle and 2-year-old Reece have yet to blaze their own Olympic trail, their famous soccer playing mom Christie Rampone has a life full of achievements. London is her fourth Olympics and her daughters will be in tow – cheering mom on from the stands.
Lashinda Demus
What keeps Olympic track and field athlete Lashinda Demus running? Her 5-year-old twin boys Dontay and Duaine. She credits her husband for her healthy life combination of training time and down time. Despite the busy life of raising energetic little ones, she is not only competing in London, but is dreaming of the 2016 Olympics as well.
Getting it All Done
Just because they manage to keep it together doesn't mean Olympian moms don't have to experience a bit of trial and error in their lives. Many have been quoted as saying they struggled to get their bodies back in shape after having their second child and beyond. Still others admittedly wake up early in the morning in order to relish in that precious "alone time" that just doesn't come with the motherhood package. Early rising, smart eating and plenty of emotional and logistical support from friends and family seems to be the key to success for all of these athletes.
But, in the end, no matter how many golds are won in London and beyond, their children remain their most precious prize. This is exemplified by the fact almost all of the above mentioned competitors are welcoming their little ones into the stands to cheer them on in the games.
Being childless may be easier when it comes to training and competition, but these moms know full well when it comes to their kids, they could never do it without them.
Written by Tamara Warta