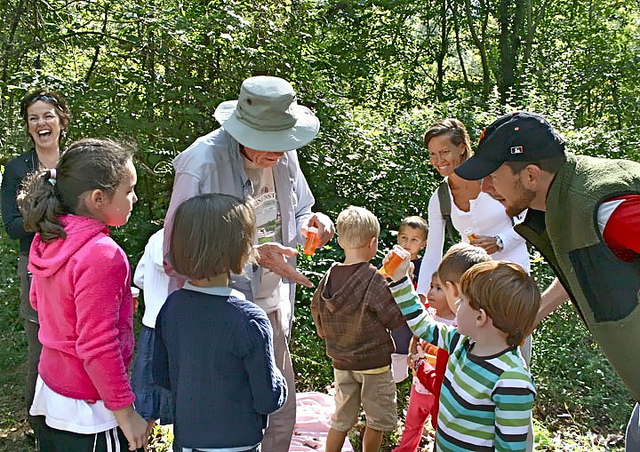 Photo by Flickr user davidsonland
What happened to the days when children had to be made to come inside for dinner, or told off for being covered in mud? Is it due to increasing technology or perhaps life inside a TV screen much much more exciting than life in the outside world?
It's time we turned off those x-boxes and opened the curtains, to reveal the wonders of the nature and wildlife. This is a much needed guide for parents on how to spark a child's interest of both nature, and wildlife conservation.
Why?
Firstly, we need to address why this is such an important issue. Not only for the children of today, but also to understand how our ignorance could be detrimental to both nature and wildlife. As Gary Synder once said; "Nature is not a place to visit. It is home."
Here are just a couple facts to illustrate the point.
There are more than 1,000 endangered species worldwide.
A century ago some five millions wild elephants roamed Africa. Today fewer than 500,000 remain
It's also important to get your kids to empathize with animals, and create a caring attitude when it comes to living things. This is likely to make them a more empathetic person in the future. It has also been shown that children who spend more time outdoors, discovering things about nature, are more intelligent, always a bonus.
How to get them interested?
Luckily all is not lost! There are numerous ways you can encourage an interest of nature and wildlife for your child. As long as you lead the way, your child is likely to follow.
Here's a few examples:
Create a Treasure Hunt
Making a treasure hunt is a really simple way of getting your child excited about nature. All you have to do is create a simple treasure map or checklist of things for your kid to try and find. E.g. 'find something really colourful' or 'look for somewhere an animal has made a home.' This is really effective, as all kids love an adventure! And even if they go off track, it still gets them outside and enjoying what nature has to offer.
Bed Time Stories
The only thing about 'bed time' that children look forward to is the stories that come with it. You can use your imagination to tell an exciting, dramatic story about wild animals. This will also allow your child to associate personalities and strong characteristics with wildlife, and so will help them to understand the benefits of saving these beloved animals a bit more.
Build a Bird Box
What better way to try and involve your child with nature, than to create a bird box? Not only will this be a great bonding opportunity for you both, but your child will also feel in touch with the birds that they see coming in and out of the box every day. Take a look at this easy step by step guide to find out how to make one.
Fundraise
Raising money for charity can be really fun, and you can be as creative as you want to be… From something as simple as a cake sale to doing funny dares, there's really no excuse to not get involved! If you can encourage an interest in charity for your child at a young age, it could really help make a difference. Maybe show them some achievements charities have already accomplished, e.g. WWF, Tiger Awareness and Act for Wildlife.
Adopt an…
Elephant! Well not literally. But by paying a small amount, each month, to charities like WWF, you can adopt any wild animal be it a tiger, a pandas, whichever is your child's favourite. This could be a great present for a child, so they feel like they're really helping in some way and feel a strong connection with an (almost) pet. And you get a cute cuddly toy, magazines and stickers included with your donation, what more could you want?!
Day Trips
One final, really easy, way of getting your kid to love nature and animals is to take them on a super fun day trip. A good example of this is the Eden Project. This is a great day out for anyone, any age. You can wander round the stunning gardens, go to music and art events, or there's special events for kids, e.g. 'wild days out', build a den, water play, etc. On top of all that, your child will learn heaps of new stuff about the world, nature and the animal kingdom.
If you have any further tips on how to get children into nature and wildlife conservation, then please share in the comments below.
Written by Louise Blake, a freelance writer and mother, who specializes in health, family life and education posts. She writes for Candis including The Eden Project.