Looking to avoid summer brain drain? A music-loving mom shares her personal research into 7 impressive benefits associated with music lessons. Drumroll, please!
By Katie Femia
One, two, three, four … With all of the counting and time signatures, it makes sense that learning a musical instrument can help strengthen a child's ability to do mathematics and problem-solve. Years of research have borne that out. But what about socially? Emotionally? Physically? Personally? It turns out that music lessons can be an effective way to help children grow in all of these areas, too.
My own daughter began playing the piano at the age of nine. It was something she had asked us to sign her up for after she received a keyboard for Christmas the year prior. She was at the age where we expected more responsibility from her, and we were also looking for an effective way for her to channel her feelings. Music lessons have helped her in both of those areas. Being able to use her hands to create something beautiful is a therapeutic experience for her. Working with her instructor and practicing at home means she has developed more discipline and motivation to excel. As her lessons continue I am seeing growth in other areas of her life as well.
Here's a medley of the amazing benefits that can come when children take up an instrument.
1. Improved Memory
Whether your child is memorizing the alphabet, multiplication tables, or Lincoln's Gettysburg Address, they will need to be able to focus on the information and store it in a retrievable manner. Music reinforces memory in the sense that it requires the child to memorize notes along with hand/mouth movement, turning the information into a tune. Using this part of the brain often to store and recite information is important, and music lessons continue to put memorization skills into practice.
2. Stress Relief or Prevention
Artforms are a wonderful way for children to express themselves while relieving tension at the same time, and music is no exception. The hands-on experience, the practice of manipulating the instruments, and the sound of the music that is created can all help put children at ease–especially after a long day at school.My child's music school even has a school outreach program where kids with special needs are given musical instruments to play as a form of therapy.
3. Better Focus
Traditional classroom learning typically involves long periods of sitting still and concentrating, which can be a challenge for children. Music lessons can help children improve their focus, as their concentration and attention to detail is important when learning a tune. Improved attention leads to mastery of the tune and progress on to the next one. The positive feelings that result from this accomplishment strengthen their desire and ability to focus on goals related to the classroom.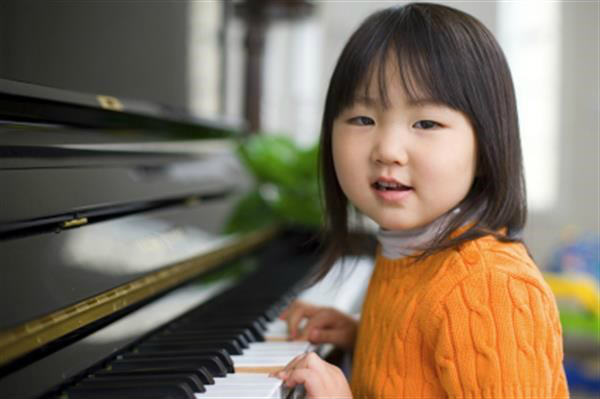 4. Fine Motor Skill Development
Fine motor skills–for example, tasks that are done with the fingers–typically require hand and eye coordination. Learning to play a musical instrument can help strengthen a child's fine motor skills, which can come in handy in the classroom when the child writes (in print or cursive), paints, cuts, measures, glues, and so on.
5. Enhanced Self-Esteem
When a child becomes familiar with playing a musical instrument, they can feel a great sense of pride in their accomplishment. As they realize that they can entertain others and even evoke emotions through their performances, their confidence may grow even more. Every child wants to feel like they are good at or successful at something, and music lessons give them the chance to do that … and then treat others with their talent. The resulting self-esteem follows that child throughout their school day and throughout their life.
6. Lessons in Accountability
My daughter's piano lessons are an intense 30 minutes in length, so it is important she is ready with her music sheets, notebook, and a sharpened pencil in hand when the lesson begins. She knows that stopping to find any of these items during the lesson would take away from valuable class time. The "homework" assigned by music instructors can also help create accountability in kids. At home, kids learn to make decisions on how to allocate their time to prepare for the next lesson. Children who take music lessons can carry this skill of accountability over to their classroom life, where deadlines for homework and classwork need to be met.
7. A Sense of Responsibility
Whether you decide to rent or own your child's instrument, you will find it does not come cheap. Caring for the instrument properly is essential to protect your investment. Music lessons teach your child to be responsible for cleaning, caring for, and storing their instrument properly. The habits kids learn in music lessons can translate into increased responsibility for their school supplies, homework, and even their actions.
Consider music as a summer enrichment activity which can prepare your child to succeed in the classroom when the next school year rolls around. There are options for every budget and level of experience, so do some exploring and what might interest your child! Find summer music camps near you at ActivityHero.