Want a special way to celebrate Mother's Day with your family? Get the kids in the kitchen to help cook these homemade brunches mom will love.
by Reesa Lewandowski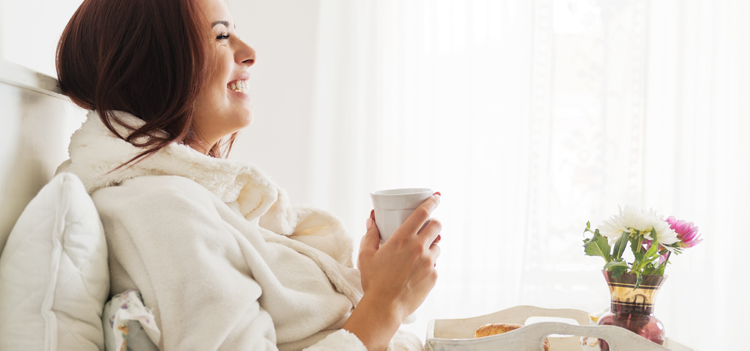 After many years of spending one too many Mother's Days in crowded, overpriced restaurants, I realized what I loved the most was spending the day with those I loved, in the comfort of my own home. With that in mind, I've pulled together this quick list of make-at-home brunch ideas that any mom would love to wake up to.
These recipes are kid-friendly, so be sure to enlist the help of your little ones. Put on a pot of coffee and get cooking! Here are eight easy ideas to inspire you:
Berry Bruschetta
Slice up strawberries and cook 8-10 minutes in a pan to warm them up.  Let the natural flavors and juices release. Spread cream cheese on top of sliced french bread and top with the berries. Younger kids can help with the cream cheese spreading; older kids will enjoy strawberry slicing, too.
Granola Parfaits
Layer Vanilla Greek yogurt, granola, and fresh berries to make a delicious parfait. Top with a dollop of whipped cream and a sprig of mint. Kids of all ages can help with all the steps on this one!
Mini Quiches
Create these mini quiches by Jennifer Pallian of Foodess in about 30 minutes — right in a muffin pan. The recipe includes details about which tasks the kids can do, including egg stirring (younger kids) and cheese grating (older kids).
Breakfast Kabobs
Slice your favorite french toast or pancake recipe into bite sized pieces and skewer onto wooden sticks with berries and bananas. Serve with warm maple syrup on the side. Kids of all ages will love the skewering! Older kids can help measure ingredients and help with cooking, too.
Egg in the Hole
This protein-packed brunch favorite is so easy and delicious. For an extra-special treat, use heart-shaped cookie cutters to create the hole for the egg! Crack an egg in the center and cook until the bread is crispy and the egg is set. Kids will enjoy cutting out the hole and cracking the black pepper.
Strawberry Spinach Salad
Create a light salad with spinach, walnuts, strawberries, and a vinaigrette of salt, pepper, olive oil, and red wine vinegar. Kids can help shake the vinaigrette and toss the salad.
Rosemary Roasted Potatoes
Here's a great way to add a touch of flare to a plate of bacon and eggs. Quarter red bliss potatoes and coat them in olive oil, rosemary, salt, and pepper. Roast for about 25 minutes at 350 degrees. Older kids can help cut the potatoes; younger kids can help toss the potatoes in the oil mixture.
Fresh Orange Juice
Pick up some delicious fresh oranges and have the kids get busy squeezing some juice for their mom. If your little one wants to take charge of this task, be sure to check out these OJ-making tips for preschoolers from Sugar Spice and Glitter.
Finishing Touches
Make your brunch special with fresh flowers arranged by the kiddos. Whether you opt for store-bought blooms or find wildflowers around your home, mom's heart will be warmed when she sees what the kids have created. Here are tips to help the kids with flower arranging basics from Kids Activities Blog.
And while everything cooks, kids will also enjoy making these handmade mothers day cards from Cute DIY Projects, too.
Celebrate
Now that everything is ready for mom, wake her up with hugs and kisses, flowers, and tasty treats. Even if every dish doesn't quite come out perfect, the excitement the kids will have from helping to create the meal will make this a day she'll love!