Discover a kids' soccer program with a different philosophy. Kidz Love Soccer focuses on teaching the fundamentals with fun, not competition!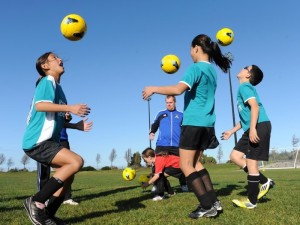 There's a good chance that Kidz Love Soccer is offering camps and classes near you – they now have programs in more than 160 communities in California, Oregon, Texas, and Washington.
And they're worth looking for — they have a completely different approach from typical league-based soccer programs! Kidz Love Soccer focuses on teaching the fundamentals of soccer in a way that improves skills, instills confidence, and teaches sportsmanship and respect for others.
Kidz Love Soccer has developmentally friendly programs ranging from parent-child classes starting at age 2 … right up to weekly classes for 10- to 12-year-olds that maintain the thrill of match play without the intense competition and time commitment required in competitive leagues. In between are Tot-Soccer, Pre-Soccer, and Soccer classes for younger grade-schoolers. All abilities are welcome, and kids are nurtured, built up, and developed as athletes — all within a positive framework.
The fun of soccer without the drama of a league. Look for locations near you!