Ever wonder if there's an Uber or Lyft for kids? Find out about 6 new services that promise to safely transport your child to and from their classes, camps, practices and more.
By ActivityHero Staff
(updated on April 6, 2023)
A carpool can be a lifesaver for busy parents with active kids, especially if your children are enrolled in after school activities that conflict with your work hours. But scheduling a carpool with other (equally busy) parents and caregivers can be time-consuming—and cause friction if some parties feel they're in the driver's seat more often than others. It can also be a challenge if you don't have kids in the same activities, or a large network of friends and family who can help out. Fortunately, where there's a demand, there's generally a supply, and today there are a number of companies in California that supply transportation options to get kids to their destinations safely and on time.
HopSkipDrive
HopSkipDrive originated in Los Angeles and Orange County and now serves the San Francisco Bay Area for ages 6 and up. HopSkipDrive was created from the real frustration of three working moms who, as busy, safety-obsessed parents, struggled to get their children to all of their activities.
Safety: Drivers pass a highly selective 15-point certification process that includes fingerprinting, extensive background checks, vehicle safety inspections by a licensed mechanic, ongoing DMV checks, reference checks, driver training, and an in-person meeting. Drivers have at least five years of childcare experience and clean driving records.
Vehicle: As part of HopSkipDrive's certification process, all CareDriver's vehicles must pass a 19-point vehicle inspection by a licensed mechanic and be a 2006 or newer model.
Carpools: HopSkipDrive recently launched a carpool feature, so families can organize rides with other families. Drivers can make multiple stops, and they are offering carpools for just $10 per family for a limited time.
Cost: Pricing is based on time and distance, and rates are as low as $16 per ride in Los Angeles and Orange County. $18 is the minimum fare in San Francisco.
Lead time: Rides need to be scheduled by 7 pm the day before.
Try It:  Download the app and enter promo code "HERO20" to receive your first ride free.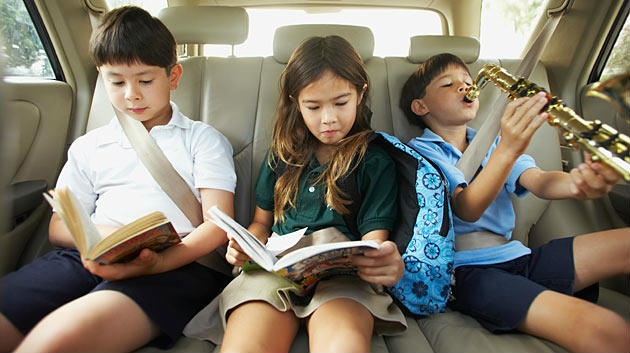 Kango
The Kango service offers rides and child care for preschoolers to high school throughout the Bay Area, including Marin. Toddlers as young as two years old can ride alone or with their nanny. Parents can even interview (first 30 minutes is free) the driver beforehand or ride-along to help younger children ease into the experience. Once you start using Kango, you can request your preferred driver or sitter, and message your driver directly from the moment they have accepted the ride.
Safety: Kango drivers undergo a rigorous screening process that takes up to 4 weeks to complete. They must must be at least 21, have at least two years of childcare experience, a clean driving record, and pass reference checks as well as two background checks including fingerprinting for Trustline certification by the state of CA. All drivers are interviewed and trained in person. Kango's drivers are female.
Vehicle: Cars must be no more than 10 years old and pass an inspection by a certified mechanic.
Cost: Ride fares are based on time and distance. Minimum fare is $16. Hourly sitter rates range from $18-$22 for one child. There is a monthly $9 subscription fee after the first month.
Lead time: Kango doesn't require a minimum lead time, and drivers are introduced to you as soon as your ride request is accepted, which might be within five minutes. Advance scheduling is helpful to get ensure that a driver is available or to request a specific driver.
Try It:  Download the app and enter promo code "KANGOHERO" to receive up to $20 off your first Kango ride, and the first month subscription free.
Zum (pronounced "zoom")
Zum (formerly known as Liftee) is available throughout the SF Bay Area and Orange County CA and serves kids age 5-15. Founded in 2014, Zum was created by grads from Stanford and Harvard with backgrounds in technology, logistics, and operations. Founder Ritu Narayan herself is a graduate of the Stanford Graduate School of Business and a busy working mother of two. Users can also add on options like babysitting, laundry pick up and drop off, and grocery/food pick up. After you download the Zum app, a Zum personal concierge helps coordinate rides and services.
Safety: Drivers must be at least 21 years old and undergo a series of interviews, a driving test and checks (such as a DMV record review). Also required of drivers: at least two years' experience working with kids and three years' experience behind the wheel.
Vehicle: Cars must be no more than 10 years old and undergo a 20-point inspection.
Cost: Zum offers rides both locally (up to five miles for a flat rate) and long-distance. Cost is based on time and mileage. Parents receive driver details and vehicle information prior to pick up, and a support team monitors your child's ride.
Lead time: Rides must be requested by 7pm the night before the pick-up date.
KidsKab
KidsKab vans transport kids ages 3 to 18, whose primary service area includes Cupertino, Saratoga, South Sunnyvale, and surrounding California cities, including shuttle service to or from many local schools. Shuttles run from 6:30 a.m. to 6:30 p.m., Monday through Friday and on weekends if requested.
Safety: Certified trained drivers undergo criminal background checks, fingerprinting, random drug testing, and other checks. They're also certified in first aid and CPR.
Vehicle: Kids will travel in KidsKab labeled company vans that undergo a rigid daily 48-point inspection. Vehicles are also inspected by a certified auto technician every 45 days. Appropriate car seats and booster seats, as well as seat belts, are provided.
Cost: Varies based upon number of riders and plan selected; an annual or summer registration fee also applies. A single one-way ride is $22, but siblings riding together cost just $15 each.
Special Perks: Kids can also be transported outside of the primary service area for an extra charge of $2 per mile. Also, if a child is not found at the scheduled pickup location, the driver will not leave until the child is located. Also, if requested, the driver will walk kids to the door or wait until they're indoors before moving on.
KidzJet
KidzJet (kidzjet.com) serves all the major areas in the SF Bay Area, including Marin, and provides pickup and dropoff at a large number of schools and after school programs. But parents can't book them for an individual ride — they work exclusively through schools and programs to schedule service.
Safety: KidzJet staff are TrustLineTM-certified and must pass rigid background checks, drug tests, and driving tests. They are all certified in both first aid and CPR. Also, this company's shuttle vans are equipped with the latest stabilization technology and meet or exceed state health and safety requirements.
Vehicle: KidzJet uses only company vans that undergo regular inspection and routine maintenance checks.
Cost: Packages are based upon individual needs, and fees can be calculated per trip, per week, or per month. Discounts are offered for groups and siblings, and special packages are offered for summer camps.
Special Perks: KidzJet is proud to protect the environment by reducing the number of cars on the road—and they further protect the ecosystem by keeping all communications paperless/electronic. The company also hosts KidzJet Adventures, which are unique theme-based science camps designed to help kids explore nature through outdoor experiences, tours, and instruction.
Editor's note: Information provided was as accurate and up-to-date as possible at the time of posting. For more details and the latest prices and services, please see the transportation providers' websites. Our original version of this article also included Shuddle and Boost by Mercedes Benz. As of May 2016, these companies are no longer operating in the SF Bay Area.
Some ActivityHero providers offer after school transportation to their program. Search now to see activities near you.