Want your child to develop a love of cooking and baking? Here, we share age-appropriate tips to help kids have fun in the kitchen.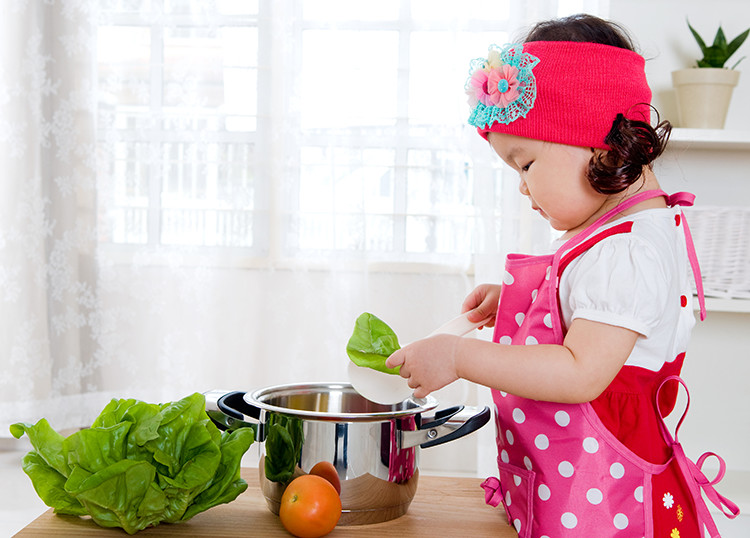 Whether we like it or not, cooking is something everyone needs to learn to do in order to have a healthy and fruitful life.  It is our choice whether we approach cooking with a great attitude or a sour attitude, but even more importantly, what will be the attitudes of our kids in the kitchen?
Most kids are very open and excited to help in the kitchen, it is usually us as parents that don't have the patience or feel we lack the skill to teach anything relevant about cooking to our kids.  Let me assure you, anything you do in the kitchen with your kids equates to a fun time and great learning experience.  So enjoy your time together and let's go!
The benefits of cooking with your kids are enormous.  When you start to think about all of the things that kids learn from a simple cooking lesson, you are going to want to have them with you in the kitchen all the time.
Find Online Cooking Classes for Kids>>
Think about some of these benefits:
Bonding Together ~ No explanation there.

Kids are learning to be self sufficient and independent ~ you may want those kids to live with you forever now BUT trust me, you won't when they turn 18!

Math Skills ~ Estimating, Fractions, Measuring, Liquid vs Dry Measuring

Nutrition ~ Be sure and talk all about the foods as you cook and how beneficial they are to your body!

Satisfying the Senses ~ Ahhh doesn't that smell so good!

Confidence ~ That's a big one.  For a child to help with a whole recipe or meal, YES a huge confidence builder which spills over into other areas of their lives.

Picky eaters will eat better!  They love to be involved in food choices and meal planning, it helps them to be more in control over what they eat.  Let them help (with a little guidance of course)

Imagination ~ Creating and experimenting with foods uses all kinds of imagination!
Don't you just want to invite your kids in the kitchen now! Here are some activities and foods that you might use to include your kids from the earliest age:
For the very littles, Toddlers ~
Bring a high chair into the kitchen and give them kitchen utensils to play with, NO not a knife!  Spatulas, Spoons, Measuring Cups (plastic)  etc.

Put a tiny bit of water into a bowl and let them use a spoon to scoop and pour.

If the child is old enough not to put things in their mouths, you can put dried beans into a bowl and let them stir the beans for dinner.

If it's near mealtime, exchange the beans for cheerios and fishy crackers to keep them happy.
Using these little utensils with food and water is a sensory and motor skills blast. Maybe a bit messy but who cares!  Smiles make up for that!
3 to 5 years ~
Pudding Painting ~ Make pudding per package directions (together) then let them paint on a cookie sheet with edges, wax paper or freezer paper.  This makes food fun AND tasty!

Pizza Muffins ~ Let the children have a Muffin (cut in half by you) then give them a little sauce (spaghetti sauce works great) and cheese in a bowl.  Let them spread and sprinkle onto the Muffin with a spoon!  You can also make Homemade Bagel Bites.
6 and Up ~
Make Homemade Pizza Dough or buy it at the store.  Let them roll out the dough and top with spaghetti sauce, cheese and any other toppings they love.

Have them fill up celery sticks with their favorite filling; Cream Cheese, Peanut Butter

Cut up some cheese and cut out shapes with cookie cutters (littles can do this too)
As kids get older, you decide when they are ready, start to teach them Math concepts.  This does not mean you have to teach them Algebra.  Some of the concepts you can teach are; Estimating and Fractions.  Show them that measuring dry ingredients is different than measuring wet ingredients.  Math can be fun when you cook.
Play kitchen games. Kitchen games?  Yes!  Some of these might include:
Teaching kids the different smells and tastes of different spices, foods, liquids.  Pick a few different ingredients in your kitchen, then take turns blindfolding each other.  The person with the blindfold has to taste and smell an ingredient and guess what it is.  You have to do this too Mom and Dad, so choose wisely the ingredients you will use. HA!

Use tongs to move ice cubes, cotton balls, strawberries, grapes from one bowl to another.  See who can do it the fastest (that is if there will be no tears)

Create different shapes and sizes of Sugar Cookies and Decorate!
The benefits and fun that accompany cooking with kids FAR outway the mess and patience you need to muster up to have your kids in the kitchen.   when kids know how to fix easy and healthy foods they are much less likely to reach for the snack foods or beg for fast food.
Big and small the kitchen should be a comfortable fun place for everyone to use their imagination while creating and eating delicious foods.