Recap of the kid/parenting tech meetup co-hosted by ActivityHero and 500Startups on 11/07/12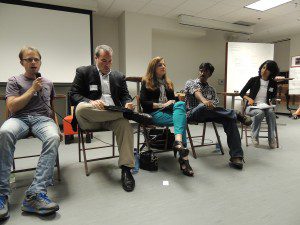 Over 70 early stage startups working on parenting and kid focused technology, and the awesomely knowledgeable panel who came to enlighten these 70 startups on distribution techniques, together rocked the house. The only fly in the ointment, I discovered later, was that the audio feed wasn't recorded. Doh!
Those who are still adamant about watching 5 mute people mime in a terribly boring fashion, watch the video here
And in a vain attempt to mollify the angry mob that turned up in twitter with pitchforks in hand, I have begged/borrowed/stolen notes from our awesomely generous panelists and pasted them below. Go forth and have your fill.
Mike Greenfield, Founder of Circle of Moms and TeamRankings, and self professed data geek who blogs extensively about data and startups at his enlightening yet convolutedly named NumerateChoir blog (a must follow!) said the following:
Measure things and make decisions based on data, not hunches.
Growth needs to be integrated into your product properly; the tactics that worked for someone else won't necessarily work for you.
Moms of kids under one are a different from moms of older kids; once kids reach one or two, moms are far more likely to have social structures for their kids, so "meet moms in your area" is less compelling.
Circle of Moms grew a lot early on with Facebook invitations, but that channel became less effective over time (for a variety of reasons).  Later on, we used a bunch of channels to grow and re-engage users.  All things equal, it's easier to grow quickly with one really strong channel.
Seth Rosenblatt, the governing Board Member & President of San Carlos School District and the former president of San
Mateo County school boards association was very empathetic to the startups' need for speed while politely sharing his knowledge about the constraints from the educators' perspective. Follow him on his blog where he muses about education and other local issues. He said the following:
Public education definitely has constraints and is historically slow to adopt (funding constraints, legal constraints, etc.)

But educational leaders do fundamentally want to innovate, and we may be at a tipping point for "21st Century Education" – breaking down of the virtual "walls" of schools

Common Core standards coming — lots of opportunities to connect there (e.g. teacher training, test taking skills, etc.)

Opportunities to better connect teachers, parents, students for collaboration – anything that connects out of school time with in school time (i.e. blended learning)

Solutions that save districts money are always valuable

Make pitch very specific — it's not about how you will "save education" but tie specifically to some of the issues above – you have to cut through the noise

Look for champions within a school district — could vary by district

Look at organizations such as county offices of education, eSchoolNews, CSBA, county organizations, etc – ask who are champions/visionaries within school districts

Emphasize thought leadership, case studies, etc — districts want to learn from other districts

Multi-pronged approach to marketing (parents, schools, board members, etc.) — depending on community, could be led by parents who then put pressure on schools
Beth Blecherman, tech blogger and contributing writer to Mashable, Laptop magazine and Cool Mom Tech and co-founder of Silicon Valley Moms Group, a network of regional mom blogs across the country (it was sold to Technorati) was overflowing with tips on how the startup community can reach parents through mom bloggers. She spoke mainly about:
How to identify the right parent bloggers

How moms use different social media platforms

Difference between a press pitch and a service pitch

How to pitch to bloggers & bigger media sites
She was kind enough to write an entire blog post elaborating these points above: Top Tips for Kid-Tech apps to pitch parent bloggers. Check out her new book My Parent Plan about applying project management to parenting.
Satyajit Sahu, a computer scientist turned entrepreneur whose super successful app iRewardChart, featured on NBC's Today show, CNET, CNN and several other national media outlets, recommended by Apple as a parenting essential, winner of the Best Parenting App award two years in a row, came well prepared with 10 essential points to note about mobile distribution:
App review websites sites

ASO

Pay per install

Giveaways

Vanity URL

Facebook app center

Cross-promotion with your other apps

App integration with platforms

Strategic partnerships

App store curated lists
He elaborates on all these 10 points above in this post on Distribution Tips for Mobile Apps
All in all, the combination of a very knowledgeable panel and an excited audience made for a fun event. Sign up to the kid and parenting tech meetup group and watch out for cool future panel discussions on topics like design, fundraising, legal etc. specifically focused on parenting and kid-tech.
Also, keep the conversation going between meetups by joining this facebook group.