Co-founder of Sparkiverse Labs Mare Lucas shares why her company seeks to spark girls' interest in STEM subjects, and how to do the same for your daughter.
By Mare Lucas, Co-Founder, Sparkiverse Labs (and Lifelong Tech Geek)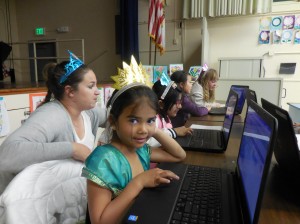 Girls + Tech. We're finding a way to make it happen. We started Sparkiverse with the mission of introducing tech to ALL kids. But we have a special drive to get more GIRLS into tech. Why? It's personal, and it's from our hearts …
I've been a female in tech for most of my professional career. And it's been lonely. expected things to have changed dramatically since I was in college in the 1980s, but surprisingly it hasn't. There are still few females in technology-related fields. I know this because I have sought them out to hire. So the time came to decide whether to keep TALKING about my passions to get more females into tech — or to get busy DOING something about it.
What I saw from my experience as a mom and technologist was that somewhere in elementary school, girls start deciding that they "aren't a math person" — or some sentiment to that effect. I felt that we were losing kids to tech — particularly girls — because it wasn't creative and engaging. And as we talked to more parents once we started Sparkiverse, we heard that girls in particular don't like to sit glued to a computer for hours. And that girls enjoy a more diverse approach to tech — a larger mix of creativity and problem solving.
We listened to the feedback. And weaved in our own experience and intuition. Now we're proud to say that at Sparkiverse we have some classes where we have MORE girls than boys! Many of our new classes are designed to particularly interest girls — like our Creativity & Circuits, Wearable Tech, and Build Your Own Games classes.
Looking forward, we're going to continue making sure that our company creates an environment where girls can feel comfortable letting their tech side shine through. I believe that if we expose girls in elementary school to coding … and circuits … and robots … and all things cool tech, that we will see the numbers of girls sticking with these fields rise quite organically. That's my goal and my hope for the next generation.