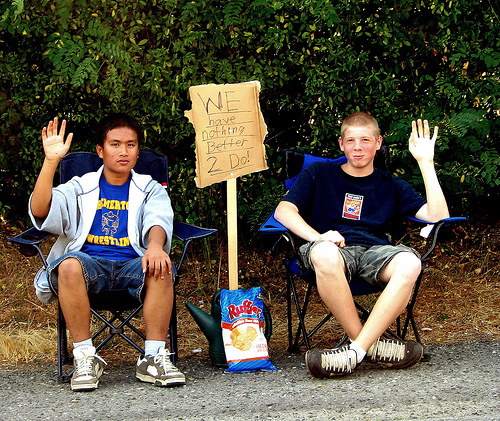 School's out, and while kids look forward to no classes, no schedules and freedom to relax hanging out with friends–vacation also means summertime boredom, time to get into trouble and challenges for many parents trying to find something to keep kids occupied for the next few months.
Encouragement, responsibility, and adult supervision are essential to preventing kids from getting bored and temperamental. With some resourcefulness and an imaginative spirit, summer can be fun, educational and enjoyable for parents and children.
Here are some ways to ignite curiosity and create a desire to learn more within your children this summer.
Volunteering
Volunteering doesn't just help the community, it can also increase your children's self-esteem and happiness while also priming them to volunteer in adulthood (see activities that teach kids compassion)
Volunteer activities provide excellent opportunities to build character, support family values, and learn about other cultures and customs. Millions of teens spend time repairing homes, planting community gardens and participating in neighborhood beautification projects.
Free Fun Stuff
You don't have to pay big bucks to send your child to camp to enrich their minds. Here are some ideas for free entertainment:
Most communities have free concerts in the park. Try out a new genre for some cultural enlightenment. Festivalsandevents.com has a national search tool that provides details about rodeos, festivals and local concerts.
Practice communication skills, and learn about family history. Spend the day going through family albums. Write letters instead of using digital communication.
Take a walking or driving tour of the town. Exploring neighborhoods leads to the discovery. Cultural diversity, varied architectural design, decorating schemes and landscaping give clues to the people living behind closed doors.
If you have two or more children, encourage them to write a story together by switching turns writing paragraphs. They'll be excited to read the whole finished product and might even bond together.
Empower your children to start their own gardens, which they can tend to throughout the summer. Research which plants grow well in your area during hot months, and designate gardening space for your little ones.
Give young children more responsibilities at home in the form of fun tasks, such as asking them to train your dog to do three new tricks by the end of summer. They'll learn patience and hone skills that will translate well when they're ready for a "real" summer job.
Check out ActivityHero's discount section for free classes and deals near you
Financial Training for Teens
School is out, but learning should never stop. Teenagers old enough to work are old enough to learn management skills (not quite ready for a job? Check out leadership training for teens). Parents can help by teaching kids how to interact with merchants and understand product value.
Opening a checking account with dual-signature requirements ensures teens learn responsible spending habits. With parental help, teens should prepare a list of questions to ask the banker about the new account.
Learning the benefits of comparison shopping is instrumental in creating good spending habits as an adult. Spending the day on a virtual scavenger hunt will divert some time spent randomly surfing the net. Parents can challenge kids to answer questions such as, "What are the best cellphone plans for me?" and "What car has the best warranty?" Finding answers teaches children to look beyond the price of an item or service and consider the value.
Parents have an opportunity to challenge their kids to expand their horizons and try new things. It doesn't have to be expensive to be fun, it just takes some creativity and flexibility.
What inexpensive ways do you prevent child boredom during summer vacation? Share your thoughts in the comments.
Written by Elizabeth Lopez. Originally from Detroit, Liz is an automotive-engineer-turned-full-time mom living in the Atlanta area.