Cooking teaches life skills and healthy eating to toddlers, grade-schoolers, tweens, and teens. Here, 5+ simple recipes that are fun to make and eat.
By Karen Walsh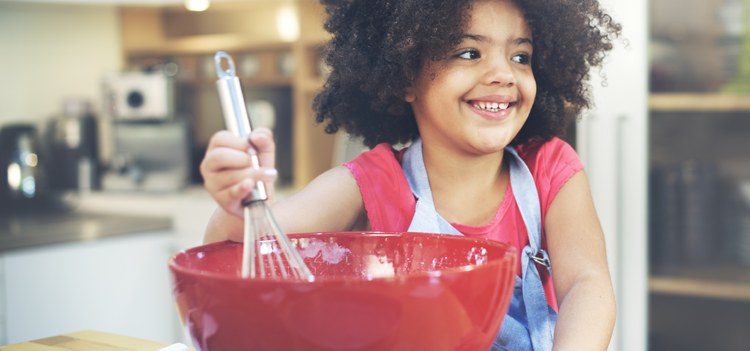 Cooking with children is one of the greatest joys and frustrations of parenting. While it can create a love of healthy food — as well as self-sufficiency as they get older — finding recipes can be challenging. For the Littles, the challenge is in finding recipes to match their skills. For elementary-school kids, the challenge is in finding foods that they're willing to eat. For teens, it's in finding recipes that are more interesting than Snapchat.
It's worth the effort, though: Cooking with kids has a range of benefits. From making math fun to sharing fundamental life skills to spending quality time together, preparing food can be a tool, as well as an experience. If you're trying to instill healthy eating habits in your child, you want to have them learn the value of ingredients from the time they can walk. And some of the best childhood memories include standing with Mom while holiday dinner cooks on the stove, of sneaking a taste before the meal was done. With all of this in mind, we've put together a roundup of recipes for kids of all ages to make cooking fun for the whole family.
The Littles: Cooking with Toddlers and Preschoolers
Getting toddler-aged children into the kitchen can seem overwhelming. They jump around and have no patience. Their ability to pay attention seems like that of a goldfish — Ooh! Shiny! However, parents need to teach Littles the value of healthy, homemade food from a young age to build good habits. While it may require some effort ahead of time to prepare and pre-measure, the long-term results of raising children who love to cook makes it worthwhile. Here are two perfect choices for getting your Littles engaged in food prep.
Most kids love peanut butter and jelly sandwiches. One way to add more nutrients (while still keeping the grumpy eater happy) is to turn it into a smoothie. Kids love smoothies because they think they're "getting away with something" by drinking a meal. The addition of yogurt and strawberries adds vitamins, protein, and calcium — and the subtraction of bread means it's a great gluten-free option for kids with an allergy. Since any Little can push a button, it's the perfect recipe to whip up together!
One of the first foods a lot of people feed their kids is avocado because it's soft and nutritious. What parents may not think about? If their children like avocado, guacamole is a really great way to teach Littles how to cook. Once the grown-up measures out the ingredients and slices the avocado, all that's left is to dump and stir — skills that are perfect for the Littles. Best of all, there's no hot oven or stove. (And the result is something green and gooey!) If you want to start cooking with your kids early in their life, guacamole is a delicious, healthy way to engage their interest.
The Middles: Cooking with Grade-Schoolers and Tweens
Anyone with an elementary-school child knows that, as kids get older, they get fussier. At some point, children move from the pre-toddler eating-mangoes-and-avocado stage to the "I will only eat hot dogs and pasta with butter!" tantrum stage. This means that teaching them how to make healthier options is even more important for this age group. For those nights when your Middles have decided that your home-cooking is gross and icky — or those days they don't like the lunches you pack — it's important for them to be able to make something other than cereal.
As kids move into these school years, they also start to notice differences more. Kids who need to be wheat-free may feel excluded at snack or lunch. For these kids, learning to bake foods that are fun and tasty can be life-changing. With healthy sugar-substitutes of maple syrup or honey, as well as the option to substitute soy milk, Mollie Katzen has the perfect recipe for wheat-free muffins.
Although baking is something all kids like to do because the outcome is so much fun, teaching healthy eating habits means making real meals as well. Almost every child loves pizza. The best part about pizza is that it's easy to make at home … and it's a food that all ages can help to make. Taking a family fast-food favorite and making it healthier, like with this Eating Well whole-wheat pizza dough recipe, means that you can give your children a head start on enjoying healthier options. The best part of pizza? If your Middles have younger siblings, the Littles can help, too, doing everything from pouring in pre-measured ingredients to sprinkling (or dumping!) on cheese to choosing their own toppings. Of course, give your Middles a bit of added responsibility: Maybe they can do the measuring?
The Bigs: Cooking with Teens
Teenagers. Someone once said that a parent's job is to make themselves irrelevant. As teens move through high school towards adulthood and independence, one of the best skills parents can teach is cooking. Being self-sufficient means preparing food from start to finish, which should be less of a challenge if your Bigs have been learning to cook since they were Littles.
With the SuperBowl right around the corner, your teen might consider planning a get-together to watch the game with friends. As teens begin to socialize on their own, giving them a sense of control over not just their friendships but where and how they socialize can empower them. This means that when you provide them the opportunity to prepare sandwiches, dip, and rollups for their party, you're helping them grow into their identity. It also gives you time to begin selecting some recipes to make once the nest is empty.
Help Kids Build "Mad" Kitchen Skills
Want some other kitchen activities to try with your kids? The BBC Good Food website lists the skills that kids should be able to master at various ages and offers links to additional recipes that are age appropriate. Or sign up your Littles, Middles or Bigs for a cooking class in your local area!