Don't just muddle through the first weeks of school. Use these clever strategies from after-school teachers to help kids (and you) hit the ground running!
By Laura Quaglio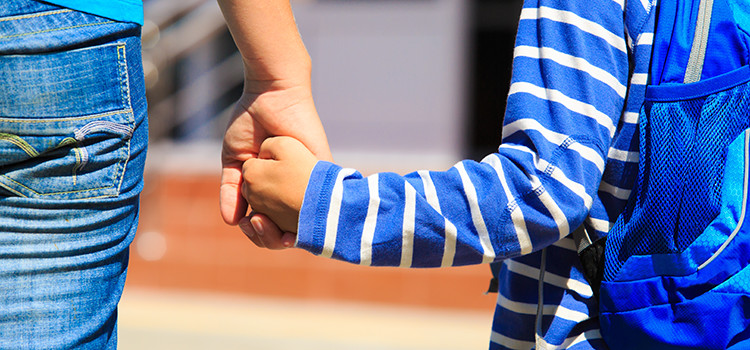 The first weeks of school loom with equal parts excitement and trepidation. Even though it's a relief to return to the predictability of the school calendar, it's tough not to dread the free-form anxiety that can accompany any type of change. Did you get the right binders? Will they have friends in their class? Will they like their teachers … will you? And how exactly did you manage to cram homework, after school activities (even their favorites), bathtime, and books into an evening with an earlier bedtime? Until the rhythm of the new school year is firmly established, you've got a recipe for general crankiness at home. It's understandable. Expected, even. But does it have to be this way? Maybe a little. But that doesn't mean we can't try to make the switch more smoothly.
"Any time you start a new routine or transition to something new, it can bring up fear, anxiety, worry … whatever word you want to use," says Michelle Wing, founder of the San Francisco studio It's Yoga, Kids, located in the Presidio. "This happens for kids especially, but also for parents."
After school program directors like Michelle have some unique insights into helping kids switch gears, adjust to newness, and cultivate a positive attitude. That's why we asked her to offer some advice on using the ancient practices of yoga and mindfulness to help kids gear up for school, settle down at bedtime, and generally de-stress. We also talked to Emily McCullough, director at San Francisco Math Circle at CSME at SFSU, about her ideas for rekindling kids' enthusiasm for learning and their excitement for the activities (after school and otherwise) that will make their coming year great.
Back-to-School Tip #1: Use Yoga to Settle Body and Mind
"Yoga engages your brain, your body, and your heart," says Michelle. That's why it's particularly useful in helping people deal with strong emotions and stressful thoughts. Here are a few ways she suggests using it to ease the transition to back to school.
To settle down before bed: Aerobic exercise helps burn off excess energy when kids are having difficulty calming down and falling asleep. Michelle suggests Yoga Jacks (jumping from the Mountain Pose to the Star Pose quickly, like jumping jacks). Have kids do 10 at a time until they're tired.
Another of her favorites is Mountain Climbers (hands on floor and "running" by alternating knees to chest). Michelle follows these mini aerobic sessions with some peaceful reading time before lights-out.
To relieve stress: Breathing-based exercises are a good fit here. First, spend some time in the Astronaut Pose (lay on floor with legs up the wall and hands on belly, noticing the belly rise and fall with each breath). Just 5 minutes or so may be enough to help them relax.
Also teach kids the Lion's Breath. This means taking a big, huge inhalation while making the eyes really big, then exhaling fiercely while sticking out the tongue to the chin (resembling a panting dog). Repeat 3 times.
To wake up in the morning: To wake up in the morning: Before getting out of bed, parents can try Body Drumming, in which they tap every part of the child's body, from the toes to the top of the head, to wake up the body and mind.
Next, they can take a Giant Breath, laying on the back with arms extended overhead, stretching the body from fingers to toes, as though you're trying to touch opposite walls. Wiggle the fingers and toes, then roll to the side and place the feet on the floor to stand up. Then go brush those teeth!
Back-to-School Tip #2: Rekindle Kids' Excitement for School
Emily McCullough, director at San Francisco Math Circle at CSME at SFSU says that the best way to prepare kids to "get back in the game" of learning is to engage their emotions. "Get them excited about the social aspects of learning," she suggests. When school is in session, they'll be able to reconnect with friends they didn't see much in summer, and they can return to fall sports or after school programs that didn't make it into their summer plans. "Getting kids excited about attending fun after school programs will likely make the back-to-school transition easier," she says. Ask them what they're looking forward to in the coming months – or what new activities they hope to try in autumn.
Also reminisce about academic successes from their previous grades. "Remind your students of the fun they had working hard and being challenged," says Emily. Did they have a History Day project they were proud of? Maybe they created a fun music video about the water cycle for their science class. Think, too, about the upcoming school subjects that might pique their interest. If they love spatial activities like building or drawing, for instance, an upcoming year of geometry may be something to look forward to.
Back-to-School Tip #3: Start Hitting the Books — Informally
To get kids' intellectual juices flowing, pay a visit to the library or bookstore. "Check out the books on math games and puzzles," suggests Emily. Or books with fun and innovative approaches to whatever subjects they enjoy.
Don't worry too much about workbooks or textbook review right now, she adds. "The procedural fluency and conceptual understanding will naturally come back with practice, and they will get plenty of that when they return to school," explains Emily. "It's excitement and interest that we need to cultivate."
Back-to-School Tip #4: Look into Enrichment Programs
If your student can't get enough of math or enjoys playing with numbers, puzzles, and patterns in their free time, they might enjoy a program like the "math outreach and enrichment program" offered at San Francisco Math Circle. "We provide rich mathematical content in an engaging context, as well as much encouragement," says Emily. "The students must bring the rest — energy, interest, and an openness to try new things."
She adds that an enrichment program might be a great fit for students who once enjoyed a particular subject but now seem bored or frustrated by it. Maybe they aren't challenged enough at school, or perhaps they had a negative experience in that subject with a particular teacher. You may be able to reignite your student's love of an "old favorite" subject matter through after school enrichment.