Our kids are growing up in a digital world. Here's why a coding or programming camp can help them get ahead — and how to find one they'll love.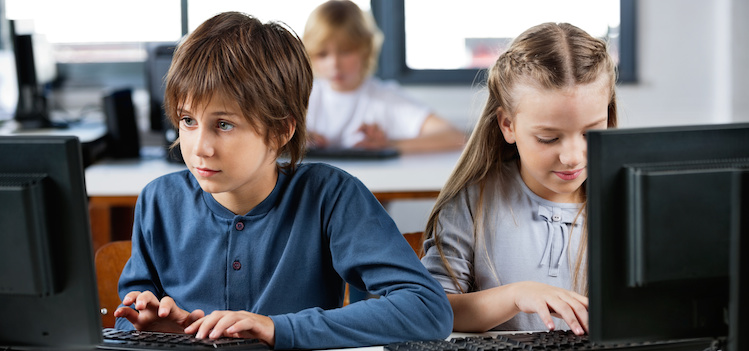 Attend any college open house, and you'll hear plenty of talk about the careers of the future. The common theme? Today's high school kids need an education that will prepare them for jobs that already exist, but even more so they will need to be ready to step into jobs that haven't been dreamed up yet. If that's the case for kids in their late teens, it will be even more of an issue for those who haven't left middle school yet. That's why Mallika Thoppay, founder of TechSmart Academy in the San Francisco Bay Area, says that all kids — even those who aren't really interested in coding or programming — may benefit from trying a coding camp at least once in their lifetime.
"Technology is playing a huge role in our lives," she says. "The child is using apps on their phone, playing video games, visiting websites. They're doing these, even if they're not a technology-oriented child. These camps give them an idea of what goes on behind the scenes to make these apps, games, and websites look and work the way they do."
Even if your child finds that they don't want to make a career of programming, they may develop a peripheral or related interest. For instance, they may want to explore digital art or graphic design. They might try digital editing of music or video. Or they may want to conceptualize game characters or design the story and structure of the levels. Whatever you do, don't wait until your child is shopping around for college to start them exploring! "There are so many careers that span off of programming," says Mallika. "It's important for every child to get a taste of it, and then decide if it is something they want to do."
Bay Area parents can check out TechSmart Academy, which provides summer coding camps, after school enrichment programs, and programming workshops to children of all ages in subjects that include (but aren't limited to) game programming, app development, web design, and understanding of algorithms and program logic. Recently ActivityHero asked Mallika a few questions to help all parents make a good choice for their child's first computer camp experience. Here are a few things to think about when comparing coding camps near you.
What programming language should my child learn?
What they choose as their first language is based more on the age of the child. For younger kids, obviously a better choice would be something that requires less typing and uses more "drag and drop" features, which allow kids to select commands from a menu of programming options (rather than typing instructions in code). Scratch is definitely the best program for these kids. It helps them think algorithmically, which will prepare them for more complicated programming later on.
If your child is 10 or older, even if they haven't done any programming, they shouldn't have to start with Scratch. They should be able to enroll in a program that teaches Java or Python. Python requires less typing, so that may help you make a selection that best suits your child.
At TechSmart Academy, most of the audience we teach is higher elementary and middle school. These kids need a lot of visual stimulation. We teach programming fundamentals such as use of conditional structures (if-then statements) and iterative statements (loops) and also core concepts such as object-oriented programming. The kids can then apply these to more-complex programs as they move into high school.
What should I ask when choosing a coding camp?
Parents may want to find out what will be included in the curriculum each day and what the child will be able to do by the end of the camp. This can help you ensure that your child will not be under-challenged or overwhelmed. If they are taking a web design camp at TechSmart Academy, they will build a website by the end of the camp. They will begin by using drag and drop, creating something that looks cool visually. But they also will learn what actually goes into making the site look like that. We talk about html and Java script so they will learn the coding that goes behind the drag and drop tools to power those technologies. A camp director or instructor should be able to explain the camp's goals in terms like these, which can give you and your child a better idea of what will be offered and whether it is a good fit for them.
How do kids coding camps differ from classes and workshops for adults?
We strongly believe that the curriculum needs to be delivered in a way that makes kids want to learn. Our programs are extremely kid-centric. A child learns differently from an adult. Ultimately we want a child to want to return to camp — not just because the parents signed them up for it.
What makes for a great instructor at a coding or tech camp?
It's important that an instructor has technical expertise in what's being taught, but beyond that, we look for someone who is patient when working with kids. Ultimately what happens is you go through instructions, and the kids will ask, "What was that again?" They do that over and over. That's how they learn. You need to be patient when explaining concepts, and sometimes you need to explain them in a different manner. A good instructor also needs to know when to hold a child's hand and when to let go and let the child handle it, so as to allow the child to figure things out. And the instructor should make learning fun and engaging so the kids will be excited to come back the next day … and next year.