When it comes to computer/coding summer camps, girls are much less likely to attend. Here's why they should, and how to find a computer camp they'll love.
By ActivityHero Staff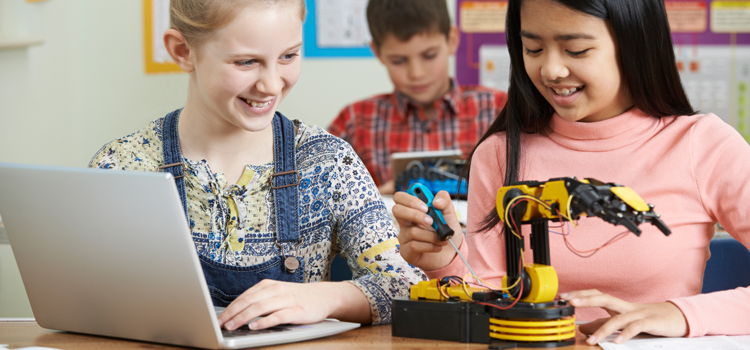 Coding camps are one of the most popular categories here on ActivityHero, the leading nationwide marketplace for kids' activities — and with good reason. As today's kids grow up, occupations in the fields of computers and information technology will be growing right along with them. In fact, computer and IT careers are expected to grow faster than all other types of jobs, with a projected 12% job growth in these areas between now and 2024, according to the U.S. Bureau of Labor Statistics. These are high-paying jobs, with an average annual salary more than 2 times higher than the national average. So it, quite literally, pays for kids to begin exploring these areas and preparing for careers in these fields.
Even if kids are not destined for tech-centric careers they can hardly escape the impact of technology in day-to-day life. They are surrounded by grown-ups (and other kids and teens) who spend the day with a smartphone in hand, using apps and keeping up with friends on Facebook or Snapchat. Computers facilitate navigating roads, ordering dinner, and voting in elections.
With all this growth and innovation underway, it's understandable that kids are eager to learn computer programming. Yet, when our ActivityHero team looked more closely at the registration data in recent years, we noticed something striking: In coding summer camps, boys outnumber girls 3 to 1.
Let's Help Close the Computer Gender Gap!
While almost as many girls as boys were registered for summer camps on ActivityHero in 2017 (left pie chart), among those who signed up for coding camps, 75% were male (right).
The computer gender gap is nothing new — but what's shocking is that it's getting worse. Back in 1984, only 37% of computer science graduates were women, according to the National Center for Education Statistics, and today only 18% of computer science graduates are women.
Peggy Chang, co-founder, and CEO of ActivityHero comments, "I was really surprised to see that there are fewer women majoring in computer science than there were two decades ago. I thought that the success of internet startups and mobile apps would have brought more women into this field. Now that we see the data, we need to work extra hard to get more girls to try out a coding workshop or camp."
Why Girls Should Try Computer Summer Camps
1. Computer summer camps are targeted at ages where girls' interest is at risk of dropping.
Girls are plenty interested in computers when they are young: Girls Who Code reports that 66% of girls ages 6-12 express interest in computing programs. But at ages 13-17, they aren't so keen; only 32% of these teenagers report an interest in computing. Computer summer camps are generally tailored for kids ages 8-16, so the timing is perfect to kindle a new interest — or keep the flames of an interest burning when it otherwise might wane.
2. Summer "brain drain" learning losses are real.
There's tons of research about the impact of a long summer on kids' learning progress. As The New York Times reported, when students don't study math or reading over the summer months, their skill loss is measurable, and cumulative, summer after summer. But what is the effect of going all summer with no exposure to computer science or coding? And what happens to the gender gap if boys go to computer camps and girls don't?
3. Computer summer camps are a low-risk way to explore a new interest.
Summer is a great time for kids to experiment with new interests of all types. Camps are usually only one week long, so even if a child doesn't fall in love with the activity, it's over in a few days. Also, most summer camps place an emphasis on fun, and they tend to include playful activities that will capture kids' interest.
4. Computer summer camp can be a springboard to further computer education.
Many businesses that offer computer summer camps also offer after school classes and weekend workshops during the school year. So the summer camp experience serves as a trial run, and kids can look forward to taking further classes with teachers they now know and like. And if the business doesn't offer fall and winter options? Children who enjoy a fun week at a computer camp may just be inspired to find a new teacher elsewhere, sign up for a computer class at school, or take free online classes (like Khan Academy) on their own.
How to Choose a Computer Camp for Your Daughter
1. Search ActivityHero for computer camps near you.
ActivityHero is an online marketplace of summer camps. Search by age, date, and location to find computer camps with openings that meet your needs, or see a list of all computer and tech camps.
2. Look for appropriate-leveled computer camps.
When considering a camp, check the activity description carefully. If your daughter is truly a newbie, look for camps with no prerequisites, or camps that are based on beginner-friendly learning platforms like Scratch or Tynker. If your daughter has more computer or coding experience, be sure to review the activity descriptions with her, and ask her which languages or platforms she's most interested in: Python, C++, iOS, Raspberry Pi, HTML, Unity 3D, etc.
3. Attend computer camps just for girls.
Is your daughter unsure about attending a camp with a majority of boys? Look for girls-only computer camps, like Digital Media Academy. Tweens and teens might especially appreciate the opportunity to meet other girls who share a curiosity about computers. If there aren't any girls-only camps near you, you can register your daughter with a friend (or two!) to make sure she won't be the only girl.
4. Find camps that combine computing with other interests.
Maybe your daughter isn't interested in computer coding … yet. But is she interested in another topic where coding just happens to be part of the fun? Maybe she has a passion for fashion and wearable tech? How about movie-making and 3-D animation? Or maybe digital photography and photo editing? Or how about blogging or web design? Even cracking secret codes from centuries past? Be sure to ask your daughter whether she is interested in robotics, Minecraft, or Lego building, too — there are tons of computer-oriented camps with these themes, all around the nation.
When girls spend even just a few weeks of summer learning new computing skills, there's hope that they'll fall in love with the fantastic puzzles they're solving and the inventions they're creating. And if we can start to close this gender gap — and keep young women interested through their teen years — perhaps we'll widen the pipeline of women in computing in college and in the lucrative careers of the future.