Does your daughter love STEM subjects? Enrolling her in a computer coding class may preserve her confidence. Here's how to find one she'll love.
By Laura Quaglio and Reesa Lewandowski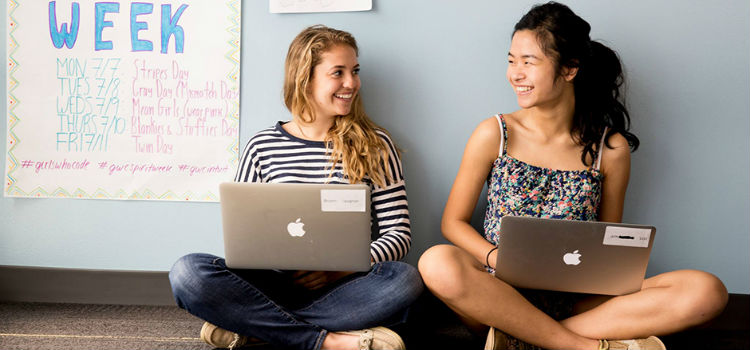 Many young girls who love STEM (science, technology, engineering, and math) subjects may wind up abandoning these interests before high school or college, according to a recent study from Florida State University. That's a shame, because it means that many highly-intelligent women are not bringing their talents to bear in these fields—ones that typically offer excellent job security and higher-than-average salaries.
The study reveals that part of the problem lies in a tendency among high-school girls to underrate their abilities in subjects like math, which may lead them to pursue other interests instead. "I think the real issue, which research supports, is that girls need extra encouragement regarding STEM interests," says Jessie Arora, Founder and CEO of Embark Labs, a company that is dedicated to inspiring diversity in the field of computer science. And the sooner the better: Arora says that she sees girls begin to drift away from their STEM-related interests as early as fifth or sixth grade.
"Parental support is vitally important to children, regardless of the content area," adds Arora. One way to champion their efforts? By helping kids find classes and camps that will invite them to explore these (and other) areas of interest. "I would encourage parents to introduce their children, both boys and girls, to a variety of STEM-related activities at various points in their lives," says Arora. "The more exposure to different learning opportunities kids receive, the more likely they are to find the right fit for them." Computer science, she adds, is a good subject for every child to explore at some point. "At Embark Labs, we believe computer science is the ideal vehicle to teach kids how to think, focusing on creative problem-solving and critical-thinking skills," she says.
Here, Arora offers a few suggestions of what to look for when shopping around for a computer science class or coding camp.
Find a Program That's Engaging
If you pay a visit to the classroom, you shouldn't see kids just staring at computer screens, says Arora. This approach can become dull, and it doesn't help students understand how science and technology relate to the world outside the classroom. "Engaging programs give kids a chance to build something that they are interested in," she adds. "We've seen equal enrollment of boys and girls in our programs, which we attribute to our project-based, student-centered approach."
Ask About Learning Goals
Before signing up, request an overview of the curriculum and the materials that will be used, such as programming tools. Also find out what tasks the students will be performing, and what projects they will tackle. "Look beyond the buzzwords," advises Arora. "Ask what the learning goals are. What will your child be able to do after the program is over? What do the instructors hope the students will take away from their experience?"
Inquire About the Approach
Teamwork and problem-solving both hold a strong appeal for girls. "As we've seen with Embark Labs, the more that computer science programs focus on problem-solving and working in collaborative teams, the more girls will participate in—and enjoy—their experiences." Again, the program's director should be able to tell you if these components exist within their curriculum.
Find the Right Level
You might think it's best to put your child in a program based on her grade level or age, but that's not always the case. "Often times, students fall across developmental stages, rather than right at their age, so being in a mixed-age group is better," says Arora. "If possible, look for programs with an age range, such as 7 to 10 year olds or middle school students." Also remember that it's never too late—or early—to begin. There are some great kindergarten-level STEM programs that work on skills such as logical thinking, patterns, and sequencing, which form the foundation of computer programming.
Continue to Support Girls' STEM Interests at Home
On November 1, 2015, a new documentary called CODEGIRL is being released. It follows the journeys of a number of real high-school girls who are competing internationally to develop meaningful and useful apps (codegirlmovie.com). Set up a time to watch this with your daughter, and do some additional research on women who are currently successful in STEM careers. This gives you some great face-time with your child, shows your support of her interests, and provides role models to inspire your daughter to pursue her dreams.
"Girls showing other girls that they can be successful in STEM fields in extremely influential," adds Arora. "At Embark Labs, our goal is to inspire the future generation of innovators and creators. We hope that in the future, women will be more equally represented in all fields, not just STEM."