If you were once a ballerina, maybe it's time to see if your kids want to follow in your footsteps — and dance steps. Get them interested by digging out your old costumes and shoes and letting them play dress-up … or sort through your piles of retired pointe shoes and work together on one of these simple-yet-clever craft projects. Have a daughter with her own worn-out toe shoes? Use these ideas to preserve them — and her memories of favorite performances.
By Katie Femia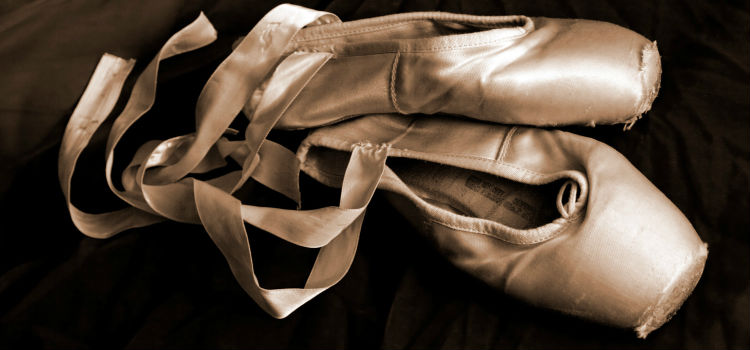 Once upon a time you may have just tossed those old pointe shoes into a closet or storage box, but many dancers today are finding ways to turn their toe shoes into works of art. Crafting with your old pointe shoes is not only a great way to repurpose these items (because as you know, they weren't cheap!) but also a wonderful way to start a conversation with your kids about your own dancing days.
If you have some pointe shoes in your closet — or perhaps your child has a few pairs of outgrown or worn-out pointe shoes of her own — take a look at this roundup of ways to showcase them. Whether you are looking for something to decorate your child's room or add some charm to your home, you are sure to find an idea that appeals to you. Oh and don't worry: You don't have to be Martha Stewart to do these projects. In most cases all you need is a quick trip to the craft store and a little time at your "crafting table." So let's get started!
How to Tidy Up Your Pointe Shoes Before Crafting
You may want to spot-treat your pointe shoes to help remove stains or grime prior to crafting. Use a soft cloth and a gentle cleaner such as Dawn dishwashing liquid to work on any unsightly spots. If frayed ribbons are a concern, you may want to recut them with a sharp fabric shears and then apply nail polish or glue to the new ends to prevent future fraying. Some people have been known to use a lighter, gently running the frayed area over the flame to burn off the loose strings and form a seal.
Now that your pointe shoes are in better shape, you can start crafting with them. Here are our picks for some pretty projects:
1. Fill Them with Flowers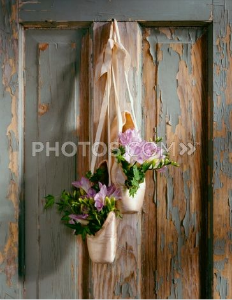 Here is a simple and elegant way to create an homage to dance recitals gone by. Tie the ribbons of your pointe shoes together and hang them from a hook. (An over-the-door hook works, if you don't want to mar the woodwork.) You can then arrange some faux blooms directly into the toe of each shoe. Or, should you wish for fresher flowers, make use of floral foam to prolong their life. First, tuck a piece of plastic wrap or a small plastic container into the toe of each shoe (to prevent the shoe from becoming soaked). Next, cut a piece of floral foam to fit inside the plastic, and set both foam blocks in a container of water for a few minutes to soak up moisture. Last, insert the foam into the "prepared" toes, then add a few of your favorite fresh blossoms.
Think beyond just decorating your ballerina's bedroom with this craft. It would be a beautiful addition to a wedding or graduation party where a ballerina is being of honored.
2. Turn Them into 3-D Art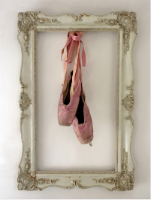 This super-easy project makes a creative addition to a powder room, guest room, or the college dorm of a dancer. To make it, purchase an antique or vintage-inspired frame at a local thrift shop, garage sale, or craft-supply store. Remove the glass insert, if there is one, as you will need only the frame itself. Paint the frame the color of your liking, or gently rub a few spots with sandpaper for a distressed look. Tie the ribbons of the shoes together and hang them from a nail or hook, then hang the frame atop it.
For a real pop of color, try framing multiple pairs of shoes in a variety of frames and arranging them into a wall collage. You can also spray-paint or dye the shoes prior to hanging so that they match the color scheme of the room.
3. Embellish Them By Hand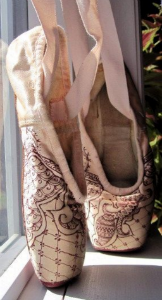 There are many ways to paint your pointe shoes. You can use henna paint, fabric paint, water colors, even permanent markers. Make some abstract art, add some inspiring quotes, or even have your favorite ballerinas sign them. This is an easy way to give the pointe shoes a pop of personality.
Want to make this craft even more fun? Don't forget the inside of the pointe shoe as well! Consider painting the inner sole of the slipper, which is sure to catch the eye. Or line the interior with a pretty piece of patterned fabric, cut to fit and attached with glue.
4. Decoupage Them with Memories
Grab some Mod Podge and pick your favorite sheet music to embellish your pointe shoes. Cut or tear the music into smaller pieces and strips, and dip them into a shallow dish of the Mod Podge mixture. Apply to the slippers, following package directions, and taking care to smooth your fingers over the paper to remove air bubbles or excess solution.Tie a piece of tulle (perhaps from an old tutu) or the ribbon from a recital bouquet to the shoes to add fluff … and memories. To make this craft even more personal, use the sheet music from a recent performance.
5. Turn Them into a Knickknack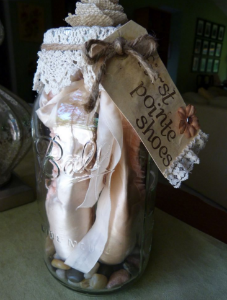 Find a large Mason jar with lid (available at most craft supply stores) and fill it with memorabilia such as dance programs, production tickets, dried flowers, and bun decorations. Tuck these tinier items around the edges, and slide the pointe shoes into the center for the finishing touch. Top the lid with a bit of lace or another favorite fabric scrap, perhaps from an old costume, then label the jar with the dancer's name or a favorite dance quote.
This would be a wonderful gift to offer a dancer at the end of a recital or a special performance.
Are you inspired yet? If so, head to the craft store, then dig out those old pointe shoes. Making these DIY projects sure beats storing them in a box. And pointe shoe crafts are an excellent way to highlight and remember the many pirouettes performed in them!
Is Your Child's Interest in Dance Piqued by These Pointe Shoe Crafts?
Check ActivityHero for dance classes near you for all ages and abilities and in styles that include ballet, hip hop, jazz, tap and more. It also might be time for Mom to look for a dance class for herself! You deserve some me-time, too, and many studios offer adult classes as well as ones for kids and teens.