Here are the best camps, classes, and activities of 2015 — based on reviews posted by families on ActivityHero. Congratulations to this year's winners!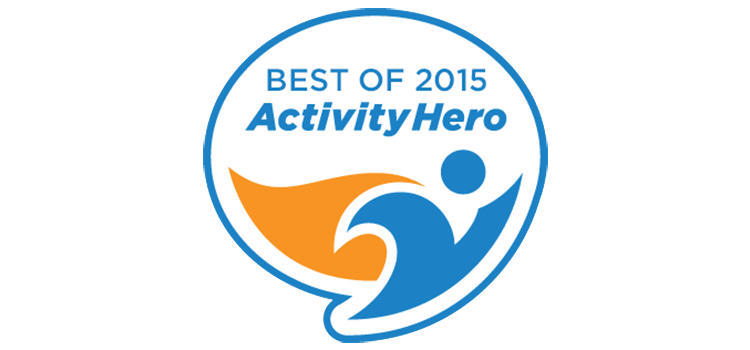 When you're choosing an activity, camp, or class for your child, getting advice from other families can really help.
That's why ActivityHero collects thousands of reviews every year — to help you see which camps and classes are most popular, and why.
We're pleased to announce the 44 businesses who got the most accolades in 2015. You may notice that many are in the San Francisco Bay Area, which is home base for ActivityHero. But you'll also find businesses from other cities and states, too. Be sure to scroll to the end to check out all the winners!
And if your favorite business isn't on the 2015 list, be sure to write a review to help make them eligible for 2016! (Note: All reviews must meet our review guidelines.)
Best Outdoor Camps & Classes of 2015
Adventure Camps
San Francisco, CA
"My daughter had the time of her life at this camp. She went on a treasure hunt through golden gate park and explored new playgrounds. I love that they are taking the children to new places and introducing new experiences they might not otherwise have, such an amazing camp! Our only regret is that we didn't find out about it sooner."
ATX Kids Club
Austin, TX
"My two children loved ATX Kids Club! That thought it was great to go on a new adventure everyday! I thought it was phenomenal to have the kids experience the city, ride the city bus and do amazing activities that they came home gushing about everyday all for a very affordable price!"
Cool Coyote Kids Camp
Portola Valley, CA
"My almost 8 year old loved it! The chance to go with other kids to the beach or the woods and play in the sand/ water/ creek/ climb trees vs. urban days that are too often structured or split up into "enrichment" activities during summers. A fabulous old fashioned "reset" couple of weeks."
San Francisco Maritime
San Francisco, CA
"It must have been good, my son asked if he could go back to this camp again. He enjoyed sailing on the bay, learning about the boats and the ocean ecosystem. I loved that he was outside all day getting to know the bay and the life of a sailor."
San Francisco Outdoor Camp
San Francisco, CA
"Our kids LOVED IT!!!! Margaret and Darcie put on an AMAZING camp for young kids… learning, making, doing, getting dirty in the sand and dirt, climbing trees."
Wheel Kids Bicycle Club, Inc.
San Francisco, CA
"This is one of the best camps my son has ever done! He changed from a tentative biker to an intrepid one! I am amazed at the ambitiousness of the trips and how they work out every time! My son returns home tired, dirty and confident… and utterly delighted! Can't recommend it enough!"
Best Academic Camps & Classes of 2015
Centro Armonia
Campbell, CA
"By the end of the summer, my 8 year old told me she was starting to think in Spanish! She said wants to go to Spanish Camp every summer- that makes it easy. See you next year!"
Kidizens
Los Altos, CA
"My son just finished a week of camp at Kidizens and he absolutely loved it! The combination of Lego building and learning about urban planning, taxes, the court system, laws and citizenship was incredibly interesting and enlightening to my child. He came home excited every day about what he had learned. The woman who ran the camp did a terrific job of helping the children to understand the WHY of so many issues in a city. Kidizens was a great experience and worth every penny!"
Mathletes
Los Altos, CA
"My child had so much fun at Mathletes camp! He was eager to get there early in the morning to get started. He loved the challenging puzzles and was able to use his creativity. Coach K fosters a fun and exciting environment for the kids."
Wealthy Habits
Atlanta, GA
"I was nervous that my middle schooler would not enjoy learning so early into summer vacation, but all he talked about was his Wealthy Habits class! He is even looking for stock market information in the paper and lecturing his younger sisters on wealthy habits!"
Best Creative Arts Camps & Classes of 2015
A Little Yumminess
San Francisco, CA
"From the 9 year old: 'This was really fun. I loved making pizza and pasta and especially the desserts!'"
Abantey: The Roleplay Workshop
Oakland, CA
"Roleplay workshop is fantastic! Kids really learn how to work together and stay on task while having fun! It is a must do camp for my kids every summer – they insist!"
CD's Kids Art Studio
San Jose, CA
"Both my sons were enrolled here for the week long camp and they had a great time. I'm sorry I didn't do it earlier in the summer as I would have sent them for a second week! we'll definitely be doing this camp every summer. Thank you"
Art With Jenny
Mountain View, CA
"Jenny is so enthusiastic and creative, and really gives individual attention to each of her students. My daughter says the projects are 'Jennytastic'!"
Brushstrokes Studio
Berkeley, CA
"What a great place! Our 5 year old daughter has done several camps there and she absolutely love it and it's very happy. And she comes home with great pottery that we use everyday!"
Circus of Smiles
Berkeley, CA
"My daughters love the humor and freedom for expression in this class!"
Mariposa Kids Community Project
San Francisco, CA
"My two kids loved their first summer camp at Mariposa Kids. The counselors are very engaging with the kids and they kept them busy with variety of fun outdoor activities. I would definitely recommend this camp to parents with active kids who prefer to be outdoors and just enjoy the summer!"
Butcher's Sew Shop Junior
Philadelphia, PA
"My son absolutely enjoyed his classes at Sew Philly. He looked forward to making a new creation each week. It was amazing to see his work product, even more so, it was wonderful to see how his abilities in sewing developed over the span of the course."
Young Builders Palo Alto
Palo Alto, CA
"My 7 year old son is half-way through his first session at Young Builders and absolutely loves it. Kobi (Owner) gives children enough instruction so they do things safely, but gives them room to experience and really work independently. I've loved that they don't start from a kit — they start building things from a block of wood. My son comes home with a boosted confidence that comes from working with his hands. I've noticed a willingness for him to try to fix stuff around the house and confidence in his problem solving. I absolutely recommend this place and plan on continuing the classes and signing up my other children."
Best Overnight Camps of 2015
uCamps
Boulder Creek, CA, CA
"Our first time away from home camper had a fabulous time. The great counselors are well trained to deal with the normal homesickness and anxiety that a young camper might experience. Both of our kids made great new friends and want to go back next summer."
Wanderers
San Francisco, CA
"My twin daughters have rated Wanderers as their favorite camp since they were seven. Every activity has been fun and they have so many special memories. The group leaders are terrific and the sites are gorgeous. They have referred six of their friends to Wanderers, whom have each enjoyed it as much as they!"
Best Performing Arts Camps & Classes of 2015
Children's Playhouse Theater
West Hollywood, CA
"CPT is AWESOME!! We signed our kid up over Christmas and now we want MORE!! Putting her in for at least 2 weeks this summer. She had a blast and meet new friends along with her 3 awesome girlfriends that joined her. The guys who run it are amazing and filled with creativity and fun. Any kid would love this group!"
Dance Mission Youth Program
San Francisco, CA
"Dance Mission Youth Program is one of the best in the city. The teachers are extraordinary and teach more than just dance. I was impressed with the care they take with the youth to teach about integrity and community. All the programs emphasize multicultural dances and music. My daughter loved the summer camp and we plan to sign up for a class during the school year. Parking is the only downside, but it's entirely worth the extra few minutes of looking for a spot. I am super grateful to all the teachers at Mission Dance."
Kid Stock
San Francisco, CA
"Kidstock is a special camp that my son looks forward to all year. There is a kind of magic to the place. The kids learn performance skills and enjoy putting on a musical in a supportive and relaxed environment. My son has done it five years in a row, and he plans to return next year!"
Little Opera
San Francisco, CA
"My son is going into his 4th year of Little Opera. It has been a very positive, fun, creative after school activity for him. He loves it and loves all the teachers. I am thrilled to go to his Opera at the end of every season."
Maureen McVerry's Musical Theatre Camp
Redwood City, CA
"Maureen's camp just gets better every year. It is simply a fantastic camp for all kinds of kids — no need for experience or even interest in theater, just come ready to spend the day running around, singing, dancing, and having a great time with the best camp director around and her topnotch associates and aides."

Mr. D's Music Club
Oakland, CA
"Our 4th grader loves Mr D's camps so much that we arrange our summer vacation around them. She has attended the after-school Glee program and the summer camps for a few years, and cannot get enough of them. Stephen is not only musically talented, but is fantastic with kids. The other teachers seem to always add something positive and important, as well. The vibe I get when picking my daughter up from camp is one of super-happy children who are finding creative parts of themselves they may not have known were there, and working together as a group to produce something exciting. They work hard, have fun, and learn musical and performance concepts in the process. The show at the end of camp always makes me cry!"
Ms. Marian's Dance Garden
San Francisco, CA
"We were looking for a ballet class, but found that most instructors were rather militant and strict. That wasnt for us. But then we were referred to Ms Marian. We really struck gold with Ms Marian as our daughter absolutely LOVES her, and honestly we as parents love her too. She is caring, professional and always finds a way to make her classes fun and engaging. Our daughter started out with Storytime Ballet over a year ago and now is enrolled in 3 classes with Ms Marian including tap and hiphop."
Ragazzi Boys Chorus
Redwood City, CA
"The Ragazzi Boys Chorus opened up a whole world for my son and has truly changed his life. The music theory education and vocal training is top-notch, but even more important, the program has given him tremendous confidence, poise, camaraderie, collaboration skills, cultural understanding, and a source of accomplishment and delight. After over eight years in the program, his Ragazzi "brothers" are among his closest friends."
Rockin' Rhythm Music Camp
Pasadena, CA
"My kids have taken music with Dani for years. I have 7 children and thanks to Dani, 6 of them are musicians. They sing, dance, act and play multiple instruments including piano, guitar and Ukulele. No one could come more highly recommended. Not to mention she has an amazing rapport with kids and a super fun personality. Love that gal! Have fun."

San Francisco Rock Project
San Francisco, CA
"Fantastic program, the instructors are excellent. The kids learn songs from a wide variety of musical styles, and my son always says how glad he is he learned about music he had never heard before. Quote: "Lou Reed is so much better than pop music, mom!" The instructors are so positive and encouraging of all the kids getting experience playing together and performing in real city venues. Great camp and year-round program, too."
Best Science/Technology Camps & Classes of 2015
Aviation Camp
San Carlos, CA
"Engaging, enriching and hands on. Many new activities everyday. Pick up and drop off a breeze. The length worked for my 5, 7 and 8 year old, ,not too long, but not too short. There was a good mix of girls and boys."

BrainVyne – Providers of LEGO® Education
Palo Alto, CA
"My son absolutely loved going to Zoom and Star Wars Lego summer camp for 6-8 year olds. He said his favorite was building R2D2. Since it was a nice small group, it was a comfortable and low-key place for him to build and meet new friends. He really liked Maggie – the instructor."
CodaKid – Kids Tech Camps
Chandler, AZ
"Great! Our 10 yr old son was nervous to go but super excited afterwards. He was so proud to show us his killer carrot he coded for Minecraft. He wants to sign up for more."
Destination Science
Albany, CA
"Fantastic camp – my 8 year old daughter loved it. The only problem was that her younger siblings were jealous of all the cool stuff she brought home, from a solar balloon to various rockets! We will do again next year (and reduce jealously by signing up her younger brother next time too!) and recommend highly."
Tech Rocks!
San Mateo, CA
"TechRocks is a good introduction to coding, typing and minecraft. My daughter had fun with the camp ~ thank you!"

TechKnowHow LEGO and Technology Summer Camps
Palo Alto, CA
"Our son said he wouldn't change a thing about the camp. He was happy to go there each day, and happy when we picked him up. Good job!"
Best Sports Camps & Classes of 2015
Core TKD
San Mateo, CA
"My son has really enjoyed his 2nd week of camp with Core TKD, he is truly inspired by Meggie and her team, they seem to capture the perfect mixture of fun times with discipline and learning."
Gorilla Play Day
Atherton, CA
"Chris provides an energetic and extremely encouraging environment for the kids. His attitude builds self-confidence as the kids build physical coordination and stamina."

League of Upstanders Anti-Bullying Camp
Santa Monica, CA
"Highly recommend! Richard is such an amazing teacher and our daughter had a total blast with him and the other kids. He's fun, and funny, and gives amazing life skills that the kids really take in and thoroughly enjoy."

MVLA with Coach Ken
Los Altos, CA
"Highly recommend! Richard is such an amazing teacher and our daughter had a total blast with him and the other kids. He's fun, and funny, and gives amazing life skills that the kids really take in and thoroughly enjoy."

P.O.M. Squad
Germantown, MD
"My Daughter loves the program. She got to interact with other kids and make new friends while at the same time doing what she enjoys.. dancing! The instructors were great and Ms.Tasha is awesome mentor and on point with communication. I would definitely recommend this program to other parent's."
Pilates Afterschool – Strong, Centered, Confident Kids
Los Altos, CA
"My daughter loved this as a second grader, and is excited to be back again for third grade! It's taught in a fun and kid-friendly way, and I appreciate that they are learning about their bodies and how to be healthy for life."

Soccer 2gether
Berkeley, CA
"Soccer2gether is a wonderful program, teaching great skills and team spirit while emphasizing fair play and fun. My son's group is becoming a real team, and you can tell they're enjoying it. Nitzan coaches with head and heart, and he offers something for every skill level. Highly recommended!"

Spartan Allstars
La Canada Flintridge, CA
"Spartan Allstars was a GREAT experience for my daughter. The staff greeted her every morning by name and with a big smile and welcome. They let me know how she did on a daily basis and gave me feedback on her strengths. My daughter is looking forward to returning next year!"