Lists get lost, sticky notes lose their stick, handwritten notes end up looking more like chicken scratch than the useful reminder they were intended for… and let's face it, if you can't remember why you walked into the kitchen in the first place you're probably not going to remember to pick up the coffee filters from the grocery store.
Thankfully, the technology of smart phones has made all of these a thing of the past and puts organization right at your fingertips. With thousands of apps available for download, many on the cheap or even free, your life can be a lot easier and more organized with the simple swipe of a screen. Here's a few of our favorite apps to make Mom's life easier.
Get Organized
Doctor appointments, hockey practice, birthday parties—it takes some sort of magic to keep everyone's calendars straight.
Winner of the 2012 best family/parenting Appy award, Cozi might just be the magical solution your family has been searching for. Cozi—a family calendar and planner, shopping list, magical all-in-one organizer—allows you make personal event logs for each member of your family and sync them into one handy organized schedule. Each user can see the events for the entire family day by day, and each week a summary of events is sent to you via email.
Not only does it organize family events, but it also includes a shopping list, to-do list, journal, and even a meal planner. Say it with me now, Hallelujah!
Keep track of Baby's Schedule
How many times has this happened to you—visit the doctor with the kids and you're asked questions about their eating and sleeping habits but can't seem to find the right answers?
That's where Baby Daychart comes in. More geared toward mothers of infants and toddlers, it tracks your child's eating, sleeping and elimination schedules on a daily basis. You can also track their mood to see any patterns related to possible food allergies or habitual fussy times.
The lite version is free if you want to get a taste of how it works, but it is well worth the price tag of $2.99.
Cook a Yummy Dinner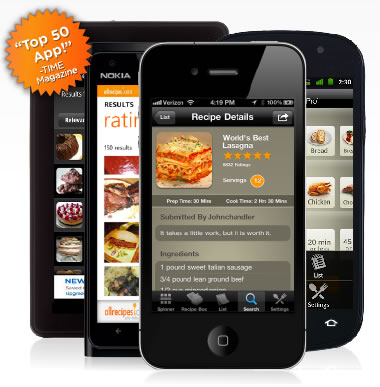 Those four words that seem to sneak up on your every day: "Mom, what's for dinner?"
Well let me offer you three comforting words: Allrecipes.com Dinner Spinner—it even sounds fun, doesn't it?
I can't even begin to stress how much I love this app; it's like playing a slot machine every time you're looking for a recipe which helps take the edge off of the WHAT THE HECK IS FOR DINNER fiasco. Simply turn the dials to the desired ingredients (pork, beef, vegetables), dish type (appetizer, soup, sandwich), and the amount of time you have (from slow cooker to less than 20 minutes) and you'll have a list of great recipes right at your fingertips. A recent update also includes a grocery scanner and list making this app pretty close to an entire meal planner.
Try it for free or upgrade to pro with a $2.99 investment.
Financial Organization
Don't let bills sneak up on you every month and start spending smarter with the help of this app.
It seems like such a simple concept—gather all of your bills and put them in one place so you can see exactly where your money goes every month. My only regret is that I didn't start using Mint sooner.
First step to financial organization—grab this free app and get started. Mint allows you to sync your bank accounts and bills, visually organize your money, set budgets for life categories such as dining and shopping, and offers tips on how to start saving for the future.
Get Budget Savvy
Cutting costs where you can doesn't mean you're cheap, it means you have learned to be smart with your money.
Getting the best deal on the things you need takes some time and a little guidance—enter the Coupon Sherpa. With coupons from over 5,000 retailers like Old Navy and Walmart right at your fingertips, you'll feel like giving your frugal diva a high five.
Your budget savvy self will also appreciate its pricetag—free in the iPhone app store.
Capture Memories
Camera phones have come a long way, and with a few adjustments and edits can produce some pretty decent pictures. Do yourself a favor and save a little time capturing beautiful memories; suck it up and join the hipster crowd by jumping on the Instagram bandwagon.
Instagram can turn any ordinary picture from a camera phone into a beautiful photo—think a pocket-sized Kodachrome—with a single click. Easily upload photos to a personal album or share with Facebook and Twitter.
Available for free for iPhone and Android, this app is well worth the time.
Written by Sarah Antrim