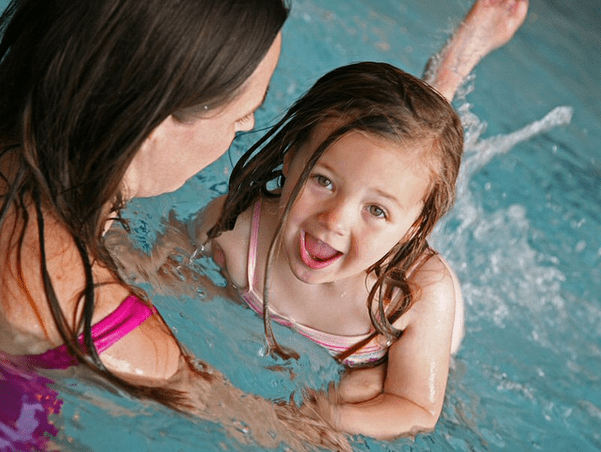 Swim safely this summer! Learn to recognize the 5 danger signs of drowning and find out how swim lessons promote safety, self-confidence, and more.
By The ActivityHero Team
Swimming is great way for kids to beat the summer heat. Before you hit the beach or pool, first teach children how to be safe in or near the water–including learning to swim. Here are 4 solid reasons to start kids on swimming lessons.
1. Safety
Since drowning is the second highest cause of death involving children ages 1 through 14, kids need to learn how to be safe in or near the water. With formal lessons, children learn how to swim in a safe environment, and are taught swimming strokes and basic water safety techniques like floating and treading water. For kids aged 1 to 4, a U.S. study found that risk of drowning decreased by over 80% if children had taken swimming lessons. If your child will be in or near water, make sure their lessons prepare them to do these basic life-saving skills:
Tread water or float for at least 60 seconds.

Turn in a circle and be able to locate an exit.

Swim at least 25 yards before exiting the water.

Pull themselves out of the water without a ladder present.

Jump into the water until fully submerged

and

be able to return to the surface.
Children should also be coached in common-sense safe behaviors including walking instead of running when near water, only swimming when an adult can supervise, and being aware of weather and environmental conditions.
Meanwhile, kids aren't the only ones who need education about water safety. Many parents think, "that couldn't happen to my family" or "as long as there are many adults present, we'll be fine". Both of these are dangerous misconceptions. In fact, three-quarters of drowning deaths take place in private pools. And up to half of all kids who drown are less than 25 yards away from an adult when the drowning occurs (source). Remember, drowning children can't yell for help or wave their arms to get attention. A child who is making no noise might be in serious distress.
To recognize the true signs of drowning, and for much more safety advice, visit this comprehensive safety guide by Moms Love Best.
For parents of young children, remember these water safety guidelines:
Stay within an arm's reach of your child

1:1 supervision is best

At a party, designate an adult whose sole focus is watching the pool or hire a lifeguard
2. Strength & Fitness
Learning a swim stroke can help with gross motor skills and basic coordination. Swimming can help a child build all-around muscle strength in arms and legs.
Once they learn to swim, a child has a skill that can be used to improve fitness throughout his or her life. Since swimming is a low-impact activity, it puts less stress on joints while providing a wonderful aerobic activity. Swimming can improve both strength and cardiovascular health in one activity.
3. Social Development & Confidence
Most swim lessons take place in groups, and as they learn to swim, children are also learning social skills such as observing peers and learning to wait their turn. Another benefit: socialization for water activities, as children learn the difference between acceptable behavior and rough play that might hurt someone else. That distinction teaches children responsibility for their actions. A third factor supporting social development is that children who really enjoy swimming will continue on to activities such as swim teams, in the process developing friendships which may last a long time.
Parents, check our blog post on ways to cope with the special situation where your child has a definite fear of the water. Once they move past this stage, being able to thrive in a new, unfamiliar environment is a building block for confidence. Children of all ages can benefit from the growth that comes with overcoming challenges to learn a new skill.

4. Lifelong Skills
Experts suggest that, compared to adults, children have a much easier time of learning to swim. For parents, knowing that their child has strong swimming skills will increase their ability to enjoy time around water.
When a child is comfortable in the water and swimming successfully, it is truly a rewarding feeling. A parent can feel a sense of satisfaction that they have given their child a tool that will serve them well throughout their life.
Before you sign up for swim camps or lessons, do some research to find out more about swim schools near you. You may want to learn about instructor background, class size, teaching style, cost, and the features of their facility, including pool size or temperature.
To find top-rated kids' swim lessons and swim camps near you, visit ActivityHero.