Do horses keep coming up in conversation with your kids? When you're in the car, when you're making dinner, when you're on the way to school…the questioning is relentless. Your kid has riding on the mind and probably won't stop asking about it until they are able to try it. Horseback riding is really one of those sports that everyone should at least try once in their lifetime, no matter what age, even if its just a fun trail ride because it such a unique experience building a bond with an animal that you can't really get from any other sport. Before you let your mind get carried away with costs and other worries, let me help you get started.
Horseback Riding Camp
Start by choosing a day camp or a horseback riding camp. Camps are an amazing opportunity to be introduced into everything from barn work, to horse prep to riding with other like-minded kids. It's important to look for a camp program that will give your child this type of experience because it will not only be more interactive, but it will make them a better rider and more responsible in the long run. Year after year, I see kids' confidences and passions flourish over just a few weeks of camp, and they really start taking pride in all of the work they are doing, whether it be the stall they cleaned or the trot they perfected. Riding at camp will leave your child with a memorable experience. If your kid leaves camp wanting more or you are more interested in a solo starting experience for them, private lessons are another great starting point.
Find horseback riding camps near me>>
Private Horseback Riding Lessons
Training programs will vary by barn and by trainer, so there are a few things to consider when looking for both of these things. If you are in completely unfamiliar territory, don't panic. Start by asking around to friends and family to see if any of them know of farms in the area with good reviews or trainers that teach introductory lessons. Not every farm has lesson horses, so it's just a matter of asking questions once you find them. Another great way to get information is by going into your local tack shop. Often times, the people that work there are riders themselves and know of contacts in the area. They also have bulletin boards with trainers and information about their riding programs. If you prefer to work online, you can also do a search for barns and trainers in your area and then check out their websites to find your best match. You can also do a search for local associations based on the type of riding you are pursuing, ie Dressage Associations, Hunter Jumper Associations, Western Associations etc, and find barns and trainers advertising on there.
Once you've found a barn and a trainer, you can decide on a program. I recommend starting with private lessons, at least for a few months. Like I mentioned before, every barn has a different way they set up with lesson programs. So when you're making your decision of where to start, compare every program. It's ideal for kids to be able to build a relationship with their trainer and build up their confidence on a horse in a one on one environment without being overwhelmed. Then once they are solid in the saddle and trust their trainer you can add in group lessons, which are a great way to start integrating your kid into the barn group. They will get to know the other kids, learn with them, and have fun. Private lessons are a great way to teach and refine, and then they can hone those skills in a group setting where they are really asked to focus despite the added distractions. Together, private and group lessons create a solid training program.
Dressing the Part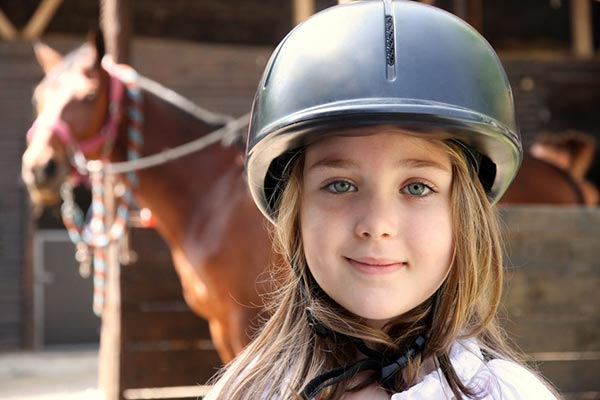 Hopefully, you feel more comfortable about how to get your kid started in the world of horses. The next challenge is to get them physically ready. There are so many things that your kid could use, but when they are first starting out, just go with the basics and get what they absolutely need because otherwise it adds up too quickly. So what are the basics? The most important items to focus on are the helmet and boots. It's essential for these to fit properly for the safety of your child and horse.
Always buy a helmet new. You will probably see some that are on consignment, but it isn't safe because you don't know if any falls occurred in them or other problems. Stop by your local tack shop to try on different styles and get the perfect fit. You can also measure on your own and order online, but know that every style will fit differently so it may take a few tries before finding the best one. For beginners, the IRH Equi-Lite Helmet is a great choice and it comes in a variety of colors and sizes. Remember though, helmets are not one brand fits all. If you are not familiar with fitting helmets, definitely go into a store and ask for help. Just so you know what they are looking for, the rule of thumb for fitting a helmet is finding one that provides even pressure all around your head. It should lie about 1 inch above your child's eyebrows and not wobble around when they move their head or shake. The nice part is that many helmets come with adjustable pads that will help you perfect the fit, once you find the model that works best.
After you have found the helmet, you want to make sure they have a pair of good paddock boots, also known as short boots, which are perfect for beginners. You can look for a nice pair on consignment or purchase them new. My personal favorite brand for paddock boots is Ariat. Lastly, get your kid a pair of gloves and riding breeches and they will be set to go! It's always a safe bet to start with less and then add to the wardrobe once they get more involved in the sport.
However you choose to get you kid started in the saddle, the most important part is that they like the barn and the trainer. Everything from there will fall into place and they will quickly fall in love with the sport.
>>For more horseback riding camps and classes, check out ActivityHero.com!