Sure, chess is a great brain-booster for type-A kids, but did you know it's also perfect for children who struggle to focus in school or organize their homework? Here, a seasoned chess coach explains why every child can enjoy many brain-boosting, skill-enhancing benefits when learning this "Game of Kings."
By Rachel Stamper
Chess camps, chess clubs and chess classes are the perfect way to introduce your child to the "Game of Kings." While experts disagree on the optimal age to begin chess — some say as early as kindergarten, while others recommend starting at second grade — all concur that chess offers incredible benefits to boost the developing brains of children of all ages.
My son, now nearly 13 and in 7th grade, participated in after-school chess club throughout elementary school, and the skills he learned in chess continue to benefit him both socially and academically. "I don't like sports, but do like competition," he says. A variation called "bughouse chess" was his favorite, because it's a team chess game. "Plus I've got a shelf full of chess trophies!"
I chatted with Coach Brett Ramirez of The Chess Club about these and other benefits of enrolling a child in a chess program. He offers the following insight, gained from his more than 20 years' experience coaching chess for elementary through high school kids.
#1 Chess Encourages Focus
Learning and playing chess teaches children the benefits of careful observation and concentration If the student doesn't watch what's happening, they can't respond to it, no matter how smart they are.
#2 Chess Teaches Visualization
We prompt children to imagine a sequence of actions before it happens. This strengthens their ability to visualize by training them to shift the pieces in their mind several moves ahead to predict outcomes.
#3 Chess Trains Thoughtfulness
Children are taught to think, then act. We teach them to ask, "If I do this, what might happen as a result and how can I respond?" Over time, chess helps kids develop patience and learn to think ahead.
#4 Chess Inspires Critical Thinking
We teach students that they don't have to do the first thing that pops into their mind. They learn to identify and weigh options and consider the pros and cons of various alternatives before they act.
#5 Chess Instills Analysis and Logic
Children learn to evaluate results of a series of actions and outcomes. They ask themselves, "Does this sequence help me or hurt me?" This way, they see that better decisions come from logic, rather than impulse.
#6 Chess Guides Abstract Thinking
We teach kids how to step back from details periodically and consider the bigger picture. They also learn to transfer patterns used in one context and apply them to different, but related situations.
#7 Chess Supports Planning
Children are shown how to develop longer-range goals and take steps towards accomplishing these goals. They are also taught how to reevaluate their plans on the fly as new developments change the scenario.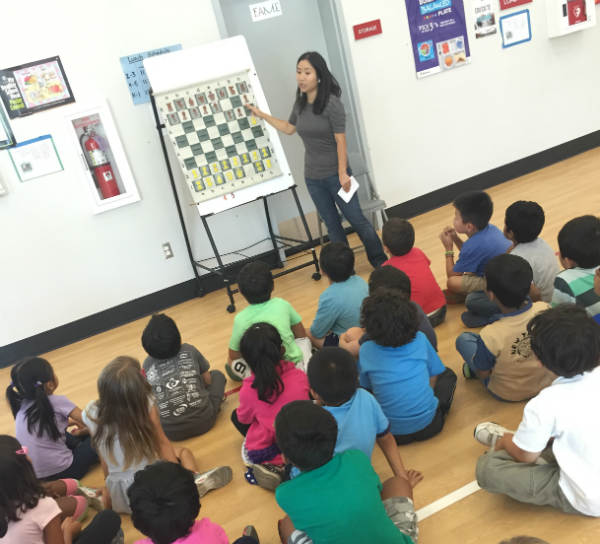 #8 Chess Inspires Multiple Lines of Thought
We encourage students not to become overly absorbed in any one consideration, but to try to weigh various factors all at once. Simultaneous juggling of multiple considerations is a skill that can be learned early.
#9 Chess Spurs Socialization
In schools, chess serves as a bridge, bringing together children of different ages, races and genders. Chess helps build individual friendships, camaraderie, healthy competition and sportsmanship.
Coach Brett adds, "The beauty of chess as a teaching tool is that it stimulates children's minds and helps them to build these skills while enjoying themselves. As a result, children become more critical thinkers, better problem solvers and more independent decision makers."
Now It's Your Move!
Find an online chess class or club and introduce your kids to the great game of chess.