Need something new to do with your little ones as the weather warms up? Welcome spring together with these creative and sensory outdoor activities.
By Skyanne Fisher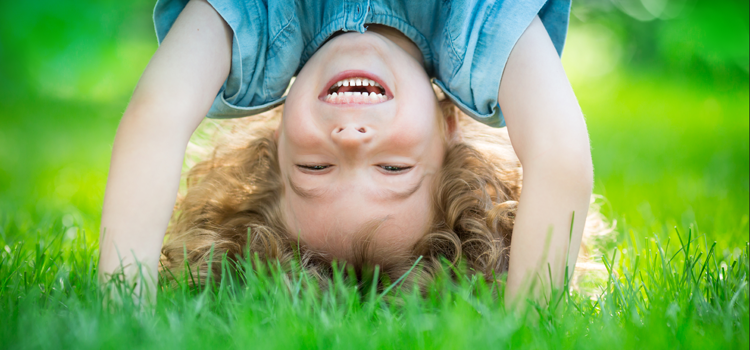 After a long winter, preschoolers will perk up when you introduce them to new spring activities. Head outside in the sunshine, and celebrate the arrival of spring!
Make Your Own Sidewalk Chalk
Sidewalk chalk was a childhood favorite of mine, and it seems to be a timeless pastime, as every child I know loves it. Instead of just grabbing a box of chalk at the local store, create a new family memory by making your own.
To create chalk: Cut a paper towel tube into 3- or 5-inch pieces, and use waxed paper to line the inside and cover one of the ends. (Hold the paper it in place with masking tape.) Mix 2 to 3 tablespoons of tempera paint, ¾ cup of plaster of Paris, and ½ cup of water. Pour the mixture inside the tubes and let sit for a few hours, until solidified. Peel off the waxed paper and cardboard tube, and you have your own homemade chalk for hours of decorating your sidewalk.

Dabble in Finger Paints
I've yet to meet a child who doesn't love finger painting, and rarely do I meet a child who doesn't "accidentally" get a little paint in their mouth. Most finger paints are labeled "nontoxic," but I still like to make my own paint because I know exactly what is in it. Plus, helping you make the paint can be a fun activity for a child.
To make finger paint: Use a ratio of 1 part flour to 2 parts water. For one child and a few colors, I typically start with ½ cup of flour and 1 cup of cold water. Combine the ingredients in a saucepan and heat it on the stove, stirring until it becomes a smooth mixture and the lumps are gone. Then remove the flour mixture from the heat and divide it into bowls, one for each color you'd like to make. Slowly add cold water until the paint is at the desired consistency, and stir in food coloring. Add a pinch of salt, which helps to stop the paint from spoiling, and you can store it in the fridge indefinitely.
Whip Up Some Homemade Bubble Mix
Bubbles are another springtime favorite. While it's easy to run to the store to grab a bottle of bubbles, making your own is super easy. And witnessing a child's excitement when they see the bubbles they've made themselves is far better than grabbing a bottle at the store. However, I do recommend picking up some bubble wands to get the most fun out of this activity.
To make bubbles: Combine 12 cups of water, 1 cup of dish soap, 1 cup of cornstarch, and 2 tablespoons of baking powder. You can also add 1 tablespoon of glycerin, but the recipe works fine without it. Combine all ingredients, taking care not to create bubbles as you stir. Let sit for 1 hour, then enjoy an afternoon of bubble fun!
Go on a Scavenger Hunt
Take a walk with your child and enjoy all that nature has to offer. Head through your neighborhood to the local park or, if you're lucky enough to have access, walk along a creek bed. Encourage your child to explore and search for butterflies, salamanders, worms, frogs, birds, and other small animals. Ask them to count how many different types of flowers they see. Seeing nature "waking up" is the perfect introduction to spring.
Fill Up a Spring-Themed Sensory Bin
Sensory bins are a great thing to have around throughout the year. Essentially they are plastic bins, boxes, or similar containers filled with objects of various sizes, shapes, and textures. They are perfect for toddlers and preschoolers who are fascinated simply by the way things feel, and they are a great way to introduce children to new things. Sensory bins are particularly helpful during rainy days when the kids can't get outside to play.
To create a spring sensory bin: Fill a plastic bin about halfway with dirt, sand, or pebbles. Then add things like flowers from the yard, miniature flower pots, kid-safe indoor gardening tools, plastic bugs or worms, and any other fun additions that you find around the house.
Craft a Few Bird Feeders
Making bird feeders each spring was a favorite tradition of mine and something I love doing with my children. All you need is a toilet paper roll and some peanut butter, birdseed, and string.
To create a bird feeder: First, put the string through the center of the toilet paper roll and leave at least 6 inches of string on either side of the roll before tying the ends together in a knot. This is how you will hang the feeder in a tree. Next, cover the outside of the toilet paper roll with peanut butter and roll it in birdseed. Make sure to cover the entire surface. Head out to your yard, select a tree, and hang it up. It's fun to choose a tree that's visible from the house so you and your kids can watch as the birds come to eat.
Mix Up Some Spring Goo
"Goo" is another great sensory activity — especially since this fun substance acts like a liquid and a solid.
To create Spring Goo: Mix 1 part water with 2 parts cornstarch. Stir in flowers, glitter, or anything else you think might be a good addition. Goo can also be turned into a fun science experiment: It's a solid when cupped in your hands or resting in a bowl, but it behaves like a liquid when you pour it from your hand.
Spend Time in the Garden
Spring is planting season. Why not allow your child the chance to have his or her own kid-size garden? If you already have a garden, dedicate a small corner to your child. If not, choose a sunny spot and create a new garden bed together. Allow your child to choose the seeds, help plant them, and then tend the garden as one of their daily responsibilities. It's an educational experience that also gives children an opportunity to connect with nature … while getting a little dirty!