Going to summer camp is a childhood experience no one should miss. Here, an expert in kids with special needs shares 5 ways to tell if camp staffers have the heart (and training) to embrace a child with disabilities.
By Katherine Teel
Summer camp is an unforgettable rite of passage for kids — but for some kids, it's not as easy as packing a bathing suit and sleeping bag. Kids with disabilities want to do the things other kids do, including participating in camp activities, forming lasting friendships, and staying overnight in a cabin or tent. Thanks to the Americans with Disabilities Act (ADA), all camps are now legally required to make reasonable accommodations that allow kids with special needs to attend. But having a wheelchair ramp doesn't necessarily mean that a particular camp has ramped up its education and staffing to truly provide for and support children with disabilities.  
Here are some of the things parents should look for when considering a camp for their kids with special needs.
1. The Camp Uses People-First Language
People-first language means that a child is referred to as "a child with autism" or "a child with an intellectual disability," and not "an autistic child" or "a retarded child." (This is also important language to look for if you have a child with diabetes or a child with a peanut allergy!) There are two reasons this matters. First, this phrasing puts the emphasis on the whole personhood of the child, without identifying him primarily as someone with a disability; the disability is only a secondary characteristic. Second, people-first language is the accepted contemporary practice among educators and other people who work with children with disabilities, and if your camp isn't familiar with this practice, chances are it isn't familiar with other current practices either. Luckily, this is an easy aspect to investigate; you can look at the language used on the camp's website!
2.The Camp Understands Your Child's Specific Disability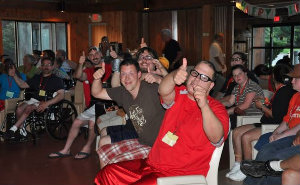 There are countless kinds of disabilities a child may have, so it's important that the camp you choose is prepared to serve your child's needs, including those related to her specific disability. A camp for kids who have ADHD may not be well-equipped to work with children who also have a physical disability. If you decide to send your child to a mainstream — or inclusionary — camp, make sure that the staff knows your child's needs and is able to and prepared to accommodate them.
3. The Camp Has Medical Staff On Site
Any mainstream camp should have — at minimum — a staff nurse and counselors trained in first aid. But many disabilities carry their own set of unique medical challenges, so you'll want to make sure any camp you consider includes medical staff who are present at all times, trained in the specific needs of your child, and prepared to address not just an emergency, but an emergency that your child might encounter in relation to his or her disability. Also make sure that there's a hospital within easy driving distance in the unlikely event your child needs urgent care.
4. The Camp Shares Your Goals
Many camps for kids with (and without) disabilities include goals such as increasing independence, developing leadership skills, trying new activities, developing social skills, and raising self-esteem. Most of them also want to provide a safe place for kids to be without their parents for the first time. Make sure your goals for your child and the camp's goals for its campers are compatible.
5. The Cost Fits Your Budget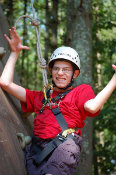 Residential camps, especially those with trained staff and specialized equipment, can get pricey. If you can't afford an overnight camp, your child might enjoy a day camp or a shorter-term overnight camp — for example, a weekend getaway instead of a week-long program. It's also possible that financial aid and scholarships may be available from either the camp itself or from charitable organizations. Ask the camp director for tips on applying for aid. Before making the down payment, make sure the outlay won't stress you financially — that's not helpful to you or your child. When you do find the right camp, the benefits to your child can be extraordinary — and well worth the investment.
Look for Local Camps for Kids with Disabilities
Visit ActivityHero.com to discover local camps that provide a variety of services and programs for kids with physical disabilities, autism, or other special needs. Start your online search — and get ready to add "expert summer camper" to your child's list of accomplishments!
Additional Online Resources
http://kidshealth.org/parent/system/ill/finding_camp_special_needs.html
http://www.veryspecialcamps.com/blog/