Headed off to the woods with a tent and some sleeping bags? Take along these creative ideas to make family camping extra fun.
By Ashley Winters

Nature makes room for your child to explore, learn, and create. It's easy to transform a regular campsite into the "summer camp" of a lifetime. Oftentimes family campgrounds have activities to keep kids busy, but in case yours is off the beaten path, I have compiled 10 unique and fun activities for family camping that will keep your kid's imagination inspired. Whether you do something as simple as taking a walk through the woods or as extravagant as creating and overnight adventure, your kids will love outdoor activities like these … and they'll love spending quality time with you.
1. Assemble Spy Gear
Think about what a spy needs: paper, pencil, periscope, magnifying glass, rope, etc. To create the ultimate spy camp, start by making spy gear such as:
A periscope: Using 2 mirrors (2″ by 1″), a piece of cardboard carton (6.5″ by 8″), scissors, glue and paint, you can help your child to create a periscope. Use the periscope to peer over walls and around corners.
A book safe: Using a hardcover book, sharp craft knife, ruler, and pencil, you can help your child create a place to hide his or her secrets in plain view.
Fingerprint Powder: Using starch powder, a candle, two porcelain dishes and a knife, you can show kids how to lift fingerprints and track clues.
Next, give them some detective work. Maybe they have to sneak into another campsite to grab a clue from the fire pit (make sure you talk to other campers first) or swing through an obstacle course to capture the clue. A good old-fashioned game of Capture the Flag is another way to use their sneaky minds creatively. Use real-life activities that you think your child would enjoy to enhance their spy skills.
2. Bring Along Lego Bricks
The great thing about Lego toys is that they can be taken anywhere; even into the campgrounds. Have your child use trees, birds, flowers, and all the nature around them to get ideas for their creations.You could talk to other campers in the area and see if any other children would like to get involved in a Lego competition. Go hiking to find venues of creativity and have your child design them using Lego bricks. Nothing can bring out creativity quite like a campsite.
3. Create All-Natural Fashions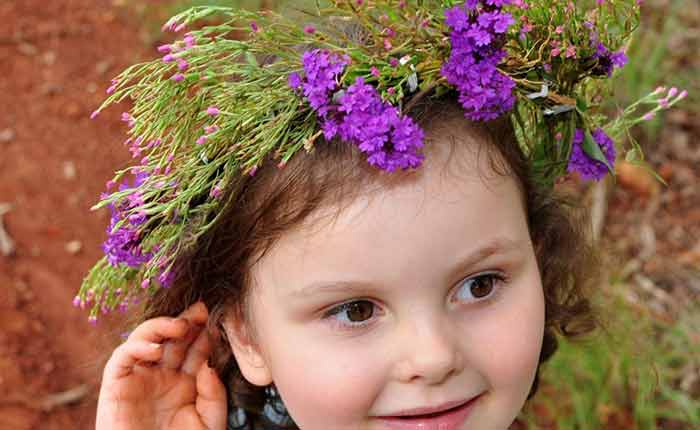 If your child is really into fashion, encourage them to use only their surroundings to create something stylish. Back before sewing machines, TV and Internet, creativity and style came from what was on hand. For instance, flowers and berries would add spice to a plain cowhide dress. Go back to the ways of the land and show your child how to create fashion from what is around such as:
Flower necklaces
Flower hair accessories
Leaf dresses or outfits
Necklaces woven from stems and wood pieces
Woven purses or baskets
Using the Earth and nature to create fashionable necklaces or adornments is a lot better for the environment, and there are so many different ways to do it. So, encourage your child to be creative and see the beauty not only on TV, but in the Earth as well.
4. Make Family Camping an Adventure
Okay, let's face it: Camp in and of itself is an adventure. However, you can make it that much more of an adventure for your child just by using some of the following ideas:
Cross a shallow river or creek without a bridge. (Safety first, of course.)
Climb the tallest tree and take pictures together (using safety harnesses).
For older children, take them into the woods and have them use a compass and map to find their way back to camp. You can be their guide. (Be sure you know where you're going first.)
5. Give Mother Nature a Makeover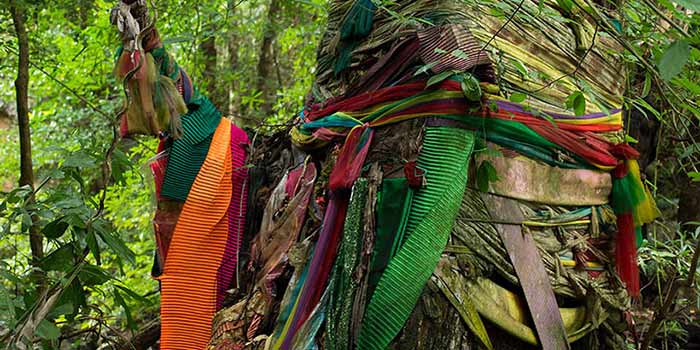 In some cultures, people celebrate May Day by weaving a tree with vibrant ribbon. This is usually done at festivals and with music. Encourage your child to learn a new culture and engage in an activity such as weaving ribbons of color around a tree at your campsite. Attach ribbons to the top of the tree and let them hang down. It is important to have an even number. Each person who is participating can grab one strand of ribbon. Partners will face each other and move around the tree going over then under the next person. This dance creates a beautiful weaved display and also teaches children different cultural rituals and history.
6. Whittle Some Magic Wands
Sticks make great wands. Simply use a pocket knife to smooth the stick. Carve in magic symbols or use paint to decorate it. The Earth gives us everything we need to create, explore, and design.
7. Try Tic Tac Toe: The Mother Nature Edition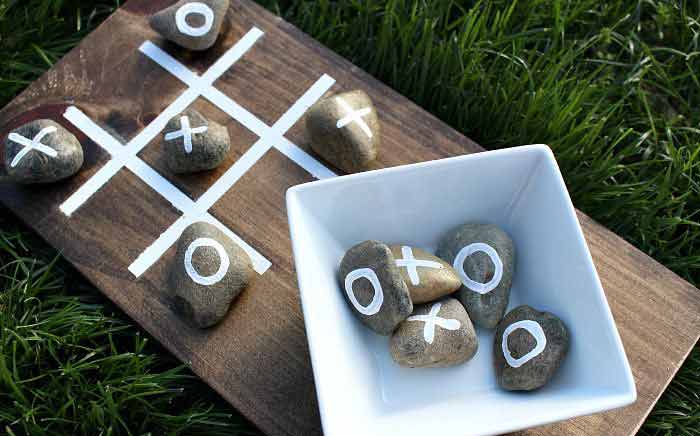 A game played through the years is always fun, whether drawn in the dirt or made with the nature around us. Gather sticks for your playing board and use acorns or rocks for your playing pieces. Remember: Three in a row wins it.
8. Build a Raft
This generation of kids has probably never made a homemade raft. Just find pieces of wood in the forest and tie them together using twine or vines (make sure they're not poison ivy!). You could even make miniature rafts and race them on the river. See who can create the fastest raft using the materials they have. Maybe you want to add a flag made of a twig and leaves or a scrap of fabric. Be creative and have fun.
9. Make a Compass
Bring your kids back to the days before GPS, and create a compass using a bowl of water, a magnet, a needle, and a foam circle. They will learn about magnetism, direction, and what to do if…God forbid…the internet ever crashes. Kids won't realize they're learning, and parents will enjoy teaching their children a valuable skill. Encourage your kids to figure out how to use the compass to make their way back to camp.
10. Craft Jewelry From Nature
Braid together vines or stems to make "rope" for a bracelet or necklace. To decorate the rope, gather flowers, leaves, or rocks with holes to use as beads. With nature at your doorstep, there is no telling the creativity that can be enjoyed.