Summer can easily turn into a season of too much junk food and ice cream and not enough of the healthy foods kids need to stay active. Getting kids involved in the kitchen not only makes them more willing to eat the food they've made, but when you bring your kids into the kitchen they learn positive character traits such as patience, teamwork, and how to follow directions.
Fun Watermelon Shapes
Watermelon is a rich source of vitamins A & C and lycopene and also a great way to keep kids hydrated on hot days. Not only is it good for you but it's mighty tasty too. Grab a seedless watermelon and some cookie cutters and you're just about ready to go. Cut the watermelon into about 1-inch thick slices then let kids cut out fun shapes with cookie cutters. For an extra cool treat, pop them into the freezer for a couple of hours and enjoy on a hot summer afternoon.
Kabobs
Everything is a little more appetizing and fun to eat on a stick! Kabobs are a great way to get your kids to eat their fruits and vegetables. Grab some skewers (be careful of sharp edges) and simply feed fruits and vegetables on. Some great ideas are grape tomatoes, broccoli, green pepper chunks, pineapple chunks, strawberries, grapes, and watermelon.
Popsicles
Ditch the high fructose corn syrup and red dye on a stick and replace it with something tasty and healthy. Popsicle molds are available at many grocery stores, but an ice cube tray works just fine. Simply puree fruit with either juice or water and add to the tray or mold. Frozen strawberries and orange juice are a personal favorite in our house. Cover with foil and insert a popsicle stick in the middle (the foil keeps the stick in place) and freeze. For an extra healthy treat add yogurt to the mix.
Granola Bars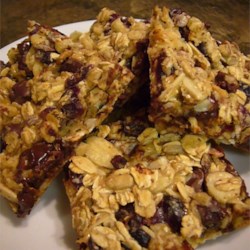 The best thing about granola bars is that they can have the chocolate chips kids want and still be healthy! All you'll need is:
3 cups quick-cooking oats
1 can sweetened condensed milk
1 tablespoons melted butter
3-4 cups of trail mix, nuts, coconut, M&M's, etc.
Simply mix together all of the ingredients, press into a greased 9 x 13 pan and bake for 20 to 25 minutes at 350 degrees. Encourage your child to be creative and mix as many different ingredients into their bars as they want! If you're craving fruit, stick to the dried variety as fresh fruit may make the bars soggy.
Quesadillas
If you child is sick of sandwiches, try changing up the lunchtime routine with a quesadilla. Encourage kids to put their favorite lunch meats, cheeses, and whatever else they fancy between two tortillas and simply heat in a non-stick pan or on a countertop grill for 1 minute. Our favorite is peanut butter and banana in a whole wheat tortilla served with a side yogurt and honey dipping sauce.
Banana Breakfast Pops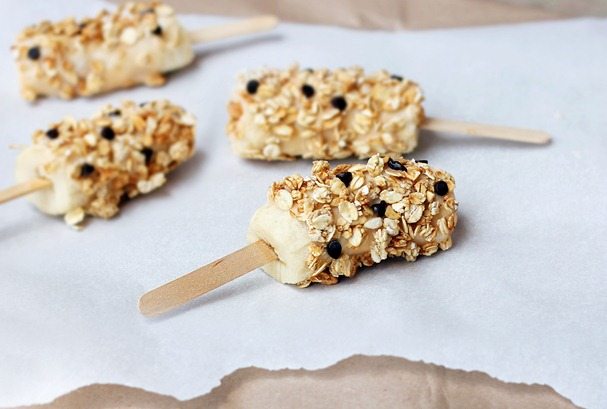 Bananas are rich in potassium, essential to the active kid's diet to prevent them from getting muscle cramps. To start, simply halve a banana and stick a popsicle stick in the end. Roll in yogurt, then granola, and place on a tray covered in wax paper. Freeze for about 1 hour or until the granola sticks well enough and enjoy! Kids can add special treats like slivered almonds or even chocolate chips. You've got a healthy breakfast and a free hand!
English Muffin Pizzas
These were my personal favorite as a kid. There's something special about having your own tiny pizzas—and much healthier than a greasy delivery pizza!
All you need is:
English muffins
Pizza sauce
Mozzarella cheese
Toppings of choice
Encourage your kids to make their pizzas just the way they like. Offer an array of vegetables to top their pizzas with such as sliced peppers and broccoli. Bake in a 350 degree oven for 15-20 minutes. Allow at least 5 minutes to cool before serving.
Ants on a Log
A tried and true favorite, something about celery covered in peanut butter and raisins makes it so much more appetizing than plain old celery sticks! This snack is rich in both vitamin C and protein—great to keep kids energized for a long day outside. Simply cut celery stalks into 2-3 inch pieces, fill with peanut butter and top with raisins. If your children suffer from peanut allergies or simply don't care for peanut butter, whipped cream cheese makes a great alternative.
Cheesy Pizza "Fundue"
All you'll need is:
1 cup spaghetti sauce
6 oz.  Velveeta cheese
2 tbsp Kraft grated Parmesan cheese
2-3 cups of bite-size vegetables and bread
Place spaghetti sauce in a microwave-safe dish and heat on high for 1 minute. Stir in cheeses and microwave another 2 ½ minutes stirring occasionally until cheese is fully melted. Allow mixture to cool before serving with vegetables and bread.
Caramel Apple Nachos
Here's what you'll need:
2 apples, cored and cut into slices
1 small tub of caramel fruit dip
1 cup miniature marshmallows
½ cup roasted peanuts
Simply arrange apple slices around a large plate, pour as much caramel dip as desired (be careful, a little goes a long way), and arrange with the rest of the toppings. Kids can also add crushed graham crackers and chocolate chips for an extra treat.