Check out the Dallas area school calendars here, including Coppell, Dallas, Highland Park, and Plano.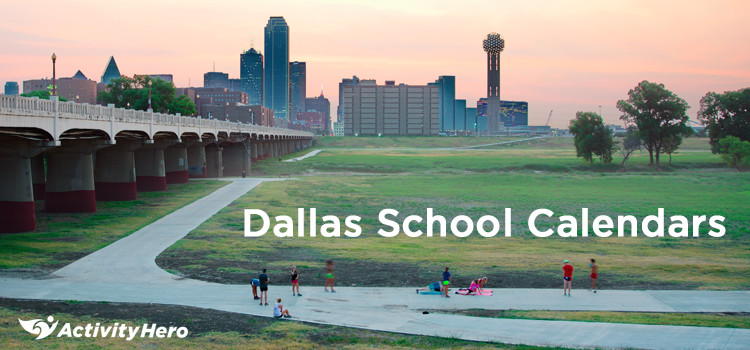 This resource is great for you if your kids go to school in the Dallas area – you'll find calendars for four major districts. Look at them one by one, or select multiple schools so you can compare them on the calendar.
This list of calendars will make it much easier for you to plan holiday camps, after school classes and vacations. We also have the district websites linked, so you can easily find more information. Be sure to bookmark this page so you can come back if you need it!
Here are some things to note about the 2017-2018 calendar:
Coppell and Plano have their first day of school on August 21, and Dallas and Highland Park have theirs on August 28.
All districts except Highland Park get the whole week off for Thanksgiving; Highland Park only gets November 22-24.
Coppell's winter break starts a full week before Highland Park's.
All the Dallas school districts have spring break March 12-16.
Coppell has its last day of the school year on May 31, while the other 3 districts have it on June 1.
Coppell Independent School District
First Day of School 8/21/2017
Labor Day 9/4/2017
Staff Development Day 10/6/2017
Columbus Day 10/9/2017
Veterans Day 11/10/2017
Thanksgiving 11/20/2017 – 11/25/2017
Winter Break 12/18/2017 – 1/3/2018
Martin Luther King Day 1/15/2018
President's Day 2/19/2018
Spring Break 3/12/2018 – 3/17/2018
Good Friday 4/13/2018
Memorial Day 5/28/2018
Last Day of School 5/31/2018 
Dallas Independent School District
First Day of School 8/28/2017
Labor Day 9/4/2017
Thanksgiving 11/20/2017 – 11/25/2017
Winter Break 12/22/2017 – 1/5/2018
Martin Luther King Day 1/15/2018
Spring Break 3/12/2018 – 3/16/2018
Memorial Day 5/28/2018
Last Day of School 6/1/2018
Highland Park Independent School District
First Day of School 8/28/2017
Labor Day 9/4/2017
Teacher Workday 10/16/2017
Thanksgiving 11/22/2017 – 11/25/2017
Winter Break 12/25/2017 – 1/5/2018
Martin Luther King Day 1/15/2018
Spring Break 3/12/2018 – 3/16/2018
Memorial Day 5/28/2018
Last Day of School 6/1/2018
Plano Independent School District
First Day of School 8/21/2017
Labor Day 9/4/2017
Columbus Day 10/9/2017 – 10/10/2017
Thanksgiving 11/20/2017 – 11/24/2017
Winter Break 12/21/2017 – 1/3/2018
Martin Luther King Day 1/15/2018
Spring Break 3/12/2018 – 3/16/2018
Memorial Day 5/28/2018
Last Day of School 6/1/2018