Find your Contra Costa County School's calendar for 2017-2018 here: Walnut Creek, WCCUSD, SRVUSD, Pittsburgh Unified, LAFSD, OUESD, Antioch and more.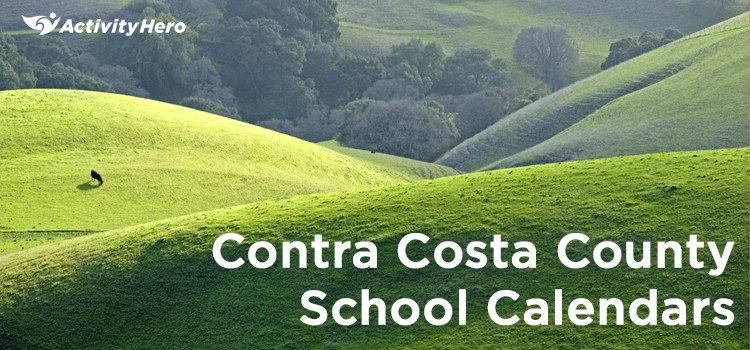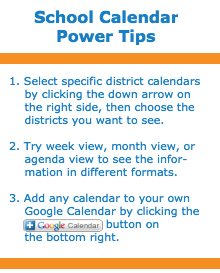 Finding and comparing Contra Costa County school district calendars has been difficult — until now. ActivityHero editors have put together this handy, all-in-one 2017-2018 calendar for all the districts in Contra Costa County, including holidays, Thanksgiving Break, and Spring Break. Be sure to bookmark this page so you can refer back to it if you need it (and check out the handy tips at right).
With these calendars, it's easier to plan a vacation with friends across town. Or if you're a business planning your class or camp schedule, you can design your sessions to fit with different school districts. Add it to your calendar and share this handy tool with friends!
Some things to note about the Contra Costa school calendars this year:
The first days of school are generally August 21-23 in districts including San Ramon, West Contra Costa, and Mt. Diablo.
Fall Recess is October 2-13 for the schools that have it in 2017.
Contra Costa's Thanksgiving break is mostly the week of November 20-24
Districts' winter breaks are sometime between December 18 and January 5 this year.
In Contra Costa, spring breaks are in the last 2 weeks of March and the first week of April.
All last days of school happen by June 8.
Contra Costa County School Calendars:
Antioch Unified School District Calendar
First Day of School 8/16/2017
Labor Day 9/4/2017
Veterans Day 11/10/2017
Thanksgiving 11/20/2017 – 11/24/2017
Winter Break 12/22/2017 – 1/5/2018
Martin Luther King Day 1/15/2018
Lincoln's Birthday 2/12/2018
President's Day 2/19/2018
Spring Break 4/2/2018 – 4/6/2018
Memorial Day 5/28/2018
Last Day of School 6/7/2018
Brentwood Union School District Calendar
First Day of School 7/31/2017
Labor Day 9/4/2017
Fall Break 10/2/17-10/13/17
Veterans Day 11/10/2017
Thanksgiving 11/20/2017 – 11/24/2017
Winter Break 12/22/2017 – 1/5/2018
Martin Luther King Day 1/15/2018
President's Day 2/16/2018 – 2/19/2018
Spring Break 3/19/2018 – 3/30/2018
District Holiday 4/2/2018
Memorial Day 5/28/2018
Last Day of School 6/7/2018
Byron Union School District Calendar
First Day of School 7/31/2017
Labor Day 9/4/2017
Fall Break 10/2/16-10/13/16
Veterans Day 11/10/2017
Thanksgiving 11/20/2017 – 11/24/2017
Winter Break 12/22/2017 – 1/5/2018
Martin Luther King Day 1/15/2018
President's Day 2/16/2018 – 2/19/2018
Spring Break 3/19/2018 – 3/30/2018
District Holiday 4/2/2018
Memorial Day 5/28/2018
Last Day of School 6/7/2018
John Swett Unified School District (JSUSD) Calendar
First Day of School 8/22/2017
Labor Day 9/4/2017
Veterans Day 11/10/2017
Thanksgiving 11/20/2017 – 11/24/2017
Winter Break 12/25/2017 – 1/5/2018
Martin Luther King Day 1/15/2018
Lincoln's Birthday 2/12/2018
President's Day 2/19/2018
Spring Break 4/2/2018 – 4/7/2018
Memorial Day 5/28/2018
Last Day of School 6/7/2018
Knightsen Elementary School District Calendar
First Day of School 7/27/2017
Labor Day 9/4/2017 – 9/5/2017
Fall Break 10/2/2017-10/13/2017
Professional Development Day 11/1/2017
Veterans Day 11/10/2017
Thanksgiving 11/20/2017 – 11/24/2017
Winter Break 12/21/2017 – 1/5/2018
Martin Luther King Day 1/15/2018
President's Day 2/16/2018 – 2/19/2018
Spring Break 3/19/2018 – 4/2/2018
Memorial Day 5/28/2018
Last Day of School 6/7/2018
Lafayette School District (LAFSD) Calendar
First Day of School 8/21/2017
Labor Day 9/4/2017
Professional Development Day 10/9/2017
Veterans Day 11/10/2017
Thanksgiving 11/20/2017 – 11/24/2017
Winter Break 12/18/2017 – 1/1/2018
Martin Luther King Day 1/15/2018
President's Day 2/16/2018 – 2/19/2018
Staff Development Day 3/16/2018
Spring Break 4/2/2018 – 4/6/2018
Memorial Day 5/28/2018
Last Day of School 6/7/2018
Martinez Unified School District Calendar
First Day of School 8/22/2017
Labor Day 9/4/2017
Professional Development Day 10/9/2017
Veterans Day 11/10/2017
Thanksgiving 11/20/2017 – 11/24/2017
Winter Break 12/22/2017 – 1/5/2018
Martin Luther King Day 1/15/2018
Staff Development Day 1/22/2018
President's Day 2/16/2018 – 2/19/2018
Spring Break 4/2/2018 – 4/6/2018
Memorial Day 5/28/2018
Last Day of School 6/7/2018
Moraga School District Calendar
First Day of School 8/21/2017
Labor Day 9/4/2017
Professional Development Day 10/9/2017
Veterans Day 11/10/2017
Thanksgiving 11/20/2017 – 11/24/2017
Winter Break 12/18/2017 – 1/1/2018
Martin Luther King Day 1/15/2018
Staff Development Day 1/22/2018
President's Day 2/16/2018 – 2/19/2018
Spring Break 4/2/2018 – 4/6/2018
Memorial Day 5/28/2018
Last Day of School 6/7/2018
Mt. Diablo Unified School District (MDUSD) Calendar
First Day of School 8/22/2017
Labor Day 9/4/2017
Veterans Day 11/10/2017
Thanksgiving 11/20/2017 – 11/24/2017
Winter Break 12/25/2017 – 1/5/2018
Martin Luther King Day 1/15/2018
Staff Development Day 2/12/2018
President's Day 2/19/2018
Cesar Chavez Day 3/30/2018
Spring Break 4/2/2018 – 4/6/2018
Memorial Day 5/28/2018
Last Day of School 6/7/2018
Oakley Union Elementary School District (OUESD) Calendar
First Day of School 7/27/2017
Labor Day 9/4/2017
Fall Break 10/2/2017-10/13/2017
Veterans Day 11/10/2017
Thanksgiving 11/20/2017 – 11/24/2017
Winter Break 12/22/2017 – 1/5/2018
Martin Luther King Day 1/15/2018
President's Day 2/16/2018 – 2/19/2018
Spring Break 3/19/2018 – 3/30/2018
Memorial Day 5/28/2018
Last Day of School 6/7/2018
Orinda Union School District Calendar
First Day of School 8/22/2017
Labor Day 9/4/2017
Veterans Day 11/10/2017
Thanksgiving 11/20/2017 – 11/24/2017
Winter Break 12/18/2017 – 1/1/2018
Martin Luther King Day 1/15/2018
President's Day 2/16/2018 – 2/19/2018
Staff Development Day 3/12/2018
Spring Break 4/2/2018 – 4/6/2018
Memorial Day 5/28/2018
Last Day of School 6/8/2018
Pittsburg Unified School District Calendar
First Day of School 8/16/2017
Labor Day 9/4/2017
Staff Development Day 10/16/2017
Veterans Day 11/10/2017
Thanksgiving 11/20/2017 – 11/24/2017
Winter Break 12/25/2017 – 1/8/2018
Martin Luther King Day 1/15/2018
President's Day 2/16/2018 – 2/19/2018
Spring Break 3/29/2018 – 4/6/2018
Memorial Day 5/28/2018
Last Day of School 6/5/2018
San Ramon Valley Unified School District (SRVUSD) Calendar
First Day of School 8/21/2017
Labor Day 9/4/2017
Staff Development Day 10/6/2017
Veterans Day 11/10/2017
Thanksgiving 11/20/2017 – 11/25/2017
Winter Break 12/22/2017 – 1/5/2018
Martin Luther King Day 1/15/2018 – 1/16/2018
President's Day 2/19/2018
Memorial Day 5/28/2018
Last Day of School 6/1/2018
Walnut Creek School District Calendar
First Day of School 8/23/2017
Labor Day 9/4/2017
Staff Development Day 10/9/2017
Veterans Day 11/10/2017
Thanksgiving 11/20/2017 – 11/24/2017
Winter Break 12/18/2017 – 1/1/2018
Martin Luther King Day 1/15/2018
President's Day 2/16/2018 – 2/19/2018
Spring Break 4/2/2018 – 4/6/2018
Memorial Day 5/28/2018
Last Day of School 6/8/2018
West Contra Costa Unified School District (WCCUSD) Calendar
First Day of School 8/21/2017
Labor Day 9/4/2017
Staff Development Day 10/9/2017
Veterans Day 11/10/2017
Thanksgiving 11/23/2017 – 11/24/2017
Winter Break 12/18/2017 – 1/1/2018
Martin Luther King Day 1/15/2018
President's Day 2/19/2018 – 2/23/2018
Spring Break 4/2/2018 – 4/6/2018
Memorial Day 5/28/2018
Last Day of School 6/7/2018